October Brought 463,000+ Unique Visitors to This Site
November 3, 2008
November 3, 2008, Greencastle, Ind. - More than 463-thousand unique visitors were drawn to DePauw.edu during the month of October, breaking an all-time traffic mark for this Web site for the second time in as many months. Those who came viewed in excess of 6.5 million pages here last month, nearing the high of 6,786,020 reached in November 2007 after a thrilling Monon Bell Classic which received national attention, including being featured as an ESPN "Play of the Day."
Nearly 23-million hits were registered last month at this site, which hosted almost 940-thousand visits.
November 2007 remains the top month for hits (24,183,802), while March 2007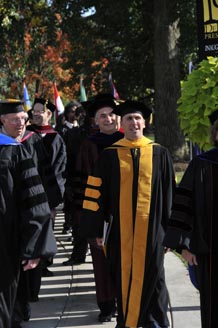 still holds the top mark for visits (1,293,553).
The top destination for visitors to DePauw.edu was -- as it is every month -- news. A total of 164 new stories appeared in October 2008 (96 in the news section, 68 in athletics). The most widely-viewed new articles included: coverage of the inauguration of DePauw's 19th president, Brian W. Casey and an Indianapolis Star story previewing the event; a report that again places DePauw among the top producers of student Fulbright Awards in the nation; word that all 114 games between DePauw and Wabash College are now commemorated with "Monon Memories; the announcement of Three Cups of Tea author Greg Mortenson's upcoming Ubben Lecture and another on the events accompanying ArtsFest 2008; the Indiana Court of Appeals visit; WGRE being voted a finalist for an mtvU "Woodie Award"; a feature on Alpha Phi Omega, a service fraternity; a Wall Street Journal column by James B. Stewart '73 in the midst of the stock market collapse; a listing of the 2008 Prevo Scholars; and a story recounting a legendary "ghost story" involving the DePauw campus.
A total of 10,991 stories now reside on the site (8,021 in news; in athletics), dating back to 1835 and searchable.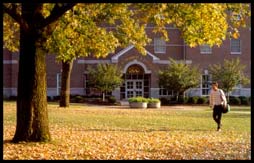 Other popular destinations included the athletics page, the University libraries, and the campus calendar. Among the most popular downloads were the music video and MP3 of The Ballad of the Monon Bell (1,613 downloads combined) as well as audio of President Casey's complete inaugural address (679 downloads).
The average visitor spent 19 minutes and 6 seconds, per visit, at this Web site. At least 9.26% of the traffic came from foreign countries, the top being, in order: Brazil, Canada, Australia, China, United Kingdom, Mexico, Netherlands, Germany, Mexico, France, Norway, Sweden, Japan, Spain, Italy, Uruguay, the Czech Republic and South Africa.
| | | | | |
| --- | --- | --- | --- | --- |
| | Hits | Unique Visitors | Visits | Page Views |
| October 2008 | 22,922,153 | 463,092 | 939,740 | 6,516,079 |
| October 2007 | 21,875,953 | 340,553 | 1,095,174 | 5,580,534 |
| Oct. 2006 | 19,666,003 | 329,368 | 1,149,184 | 4,578,553 |
| Oct. 2005 | 16,879,574 | 203,725 | 845,230 | 3,832,004 |
| Oct. 2004 | 10,616,953 | 148,037 | 550,097 | 2,906,110 |
| Oct. 2003 | 8,874,673 | 96,711 | 436,672 | 1,950,440 |
| Oct. 2002 | 7,425,617 | 72,581 | 362,324 | 1,340,800 |
| Oct. 2001 | 5,979,649 | 49,996 | 264,170 | 1,080,010 |
| Oct. 2000 | 3,220,831 | 28,797 | 167,420 | 840,859 |
("hits" is a count of all the successful hits including HTML pages, pictures, forms, scripts and files downloaded; unique visitors counts each user once per month; visits counts every time a user visits the site)
Back