Join in Public Art Project, 'The Camp Sessions'
November 1, 2008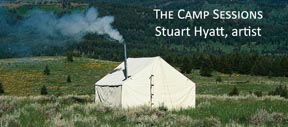 November 1, 2008, Greencastle, Ind. - "The Camp Sessions," a week-long series of events and activities developed and organized by Indianapolis-based artist and Grammy-nominated musician Stuart Hyatt, will take place on the DePauw University campus November 3 - 7. The Camp Sessions is a multidisciplinary public art project conceptualized by Hyatt as a means of bringing together people of divergent backgrounds into a focused environment of study, creativity and exploration.
The project and its affiliated events will take place inside an updated version of the traditional early American wall tent, a structure widely found in refugee camps and border areas, and used frequently for disaster relief efforts. For the project, Hyatt
has designed a custom structure intended to house a number of community/campus events, including musical performance and recording, storytelling, cooking lessons, scientific presentation, and artifact storage. Part shelter, part high-tech research station, and part "base-camp," The Camp Sessions combines a number of visual and structural elements into a unique mobile structure.
The tent will travel to Uganda in the spring of 2009, and will return to the DePauw campus as part of the University's 2009 Biennial, a bi-annual exhibition highlighting contemporary artistic practice in the Midwest.
Special events during the week will include a reading and storytelling session by Ugandan writer and activist Sister Stella Sabina Santana; a screening of the Oscar-nominated film War Dance (2007); a music workshop led by musician and Wabash College professor James Makubuya; a map workshop; and Ugandan cooking lessons, as well as an African culinary "feast."
The tent will be located on the lawn north of DePauw's Green Center for the Performing Arts during the week of November 3 - 7, and events will take place daily from 4 to 9 p.m.
Members of the DePauw and Greencastle communities are welcome and encouraged to attend and participate in all scheduled activities and events. For a complete schedule of events, click here.
The Camp Sessions was commissioned by DePauw University as part of ArtsFest 2008: Art and Borders, a campus-wide celebration of the creative, visual and performing arts. Learn more by clicking here.
Back