Stephen Hayes '93 Inks Deal with CNN
November 3, 2008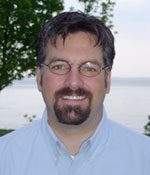 November 3, 2008, Greencastle, Ind. - "Frequent CNN guest Stephen Hayes, has made it official by signing on with the network as a political contributor, network officials said Monday," reports Multichannel News. "Currently a senior writer at the Weekly Standard, Hayes will appear on the full line-up of CNN programming as part of the network's ideologically diverse group of analysts and contributors," writes Linda Moss. Hayes is a 1993 graduate of DePauw University.
"Steve is a well-respected and knowledgeable journalist who already has become a natural part of CNN's political coverage," states Sam Feist, the cable network's political director. "As part of the 'Best Political Team on Television,' Steve will help CNN in its commitment to go beyond political spin and present viewers with the

most in-depth and bipartisan insights," he adds.
Stephen F. Hayes has also written for the Los Angeles Times, Wall Street Journal and other publications, and authored the 2007 biography, Cheney: The Untold Story of America's Most Powerful and Controversial Vice President. Jonathan Karl
called the book "the most serious effort yet to understand the Cheney enigma" in a Wall Street Journal review.
The article notes Hayes' DePauw degree and that he earned a master's degree from Columbia University's Graduate School of Journalism.
Access the complete story by clicking here. Another mention can be found in Broadcasting & Cable.
A summary of an August 2007 interview with Stephen Hayes -- including video clips -- may be accessed in this previous article.
Back