Prof. Larry Sutton Honored at Speech Conference
April 15, 1966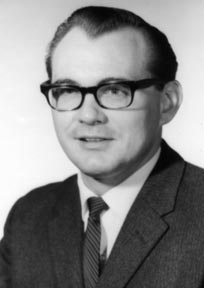 April 15, 1966, Greencastle, Ind. - DePauw University Professor Larry G. Sutton is the "Outstanding Young Teacher in Speech," an award he received today at the annual conference of the Central States Speech Association in Chicago. The honor was presented by the association's Awards to Young Teachers Committee.
The 29-year-old speech professor was cited for his exceptionally fine contributions to the DePauw speech program in developing and teaching a variety of courses, for his work in guiding theatre productions, and for providing genuine opportunities for creativity for DePauw undergraduates.

Sutton, who has been a member of the DePauw faculty for three years, was nominated for the distinction by Robert O. Weiss, head of the University's speech department.
Larry Sutton earned the A.B. degree at Marietta College and the M.A. at Ohio University. He is presently doing doctoral work at Indiana University.
Back