Statewide TV Show to Spotlight 'Monon Memories' and Historic DePauw-Wabash Rivalry
November 7, 2008
Also: Complete Roster of 'Monon Memories'; See Them on YouTube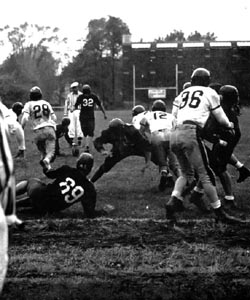 November 7, 2008, Greencastle, Ind. - "Monon Memories" -- the recently-completed series of videos chronicling all 114 football games between DePauw University and Wabash College -- will be in a statewide spotlight this weekend. Ken Owen '82, executive director of media relations at DePauw and creator of the clips, will appear on Inside Indiana Business with Gerry Dick. Owen, a 1982 graduate of DePauw, will be interviewed by Bill Benner, formerly of the Indianapolis Star, in a segment of the television program which is seen in every media market across Indiana. (at left: an image from the 1945 Monon Bell game)
The four-minute interview will offer a look into how the project was launched, share some of the anecdotes that give the rivalry -- which began in 1890 -- much of its distinctive flavor, and provide
a preview of next Saturday's 115th Monon Bell Classic, which will be played in Crawfordsville.
Inside Indiana Business is seen on 14 stations. A schedule of outlets and showtimes can be found here.
This week's Chronicle of Higher Education includes a story (and three vintage Monon Bell photos) on the "Memories," and HDNet is planning a feature which will run during halftime of next Saturday's national telecast of the battle for the Bell.
All of the video clips will be included in a special commemorative 2-DVD set of the 2008 Monon Bell Classic, which is available for pre-order. Lower resolution versions of all "Monon Memories" can be found online by clicking here.
Tickets for next weekend's game are still available. For information, access this article. (at left: DePauw celebrates a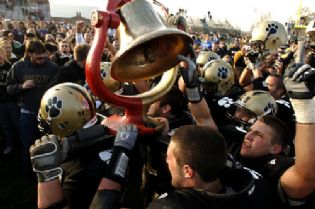 victory in the thrilling 2007 Monon Bell Classic;

[Download Video: "2007 Monon Memory" - 7808kb])
This year's contest will be the 77th for possession of the Monon Bell, which was introduced as the winner's prize in 1932. Wabash leads the all-time series 53-52-9, while DePauw leads in games played for the Monon Bell by a 36-34-6 count.
For comprehensive information on one of college football's greatest rivalries, visit the Monon Bell Web page.
Back