WWII Hero Alex Vraciu '41 Cited in NY Daily News
November 7, 2008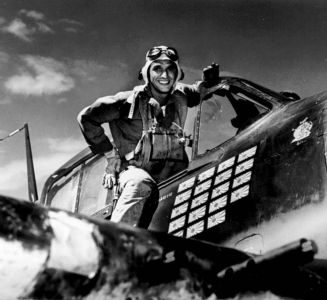 November 7, 2008, Greencastle, Ind. - "In 1944, the Intrepid housed renowned fighter pilot Alex Vraciu," a 1941 graduate of DePauw University, notes today's New York Daily News. "After taking down six Japanese airplanes in one mission, he went on to become the Navy's fourth highest-scoring ace of World War II."
Vraciu is noted in a story, "50 facts about the Intrepid." Eloise Parker writes, "After a two-year leave of absence and $120 million refurbishment, one of the most successful [aircraft carriers] in U.S. history will reopen as a museum this Saturday with a full weekend of festivities at the newly created park at Pier 86."
You can access the other 49 facts about the ship at the newspaper's Web site.
In 2006, Alex Vraciu was featured in an episode of the History Channel series Dogfights. Efforts continue to honor Vraciu with the Medal of Honor for his service to America. Read more in this previous article.
Back