Mike Ratcliff '65 Shares Stories of His Mission Trip to Africa
November 8, 2008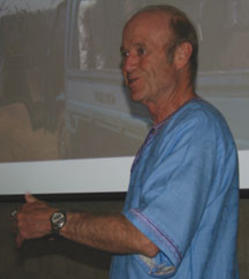 November 8, 2008, Greencastle, Ind. - "This was something that was not planned," Mike Ratcliff says of his trip to Central Africa, "it just happened. It was what I did for a living (leadership development)." Ratcliff, a 1965 graduate of DePauw University, returned to Greencastle this week to discuss his trip with the local Kiwanis Club.
Ratcliff, who is executive director of the Greater Dayton Mayors and Managers Association, "went primarily to teach leadership development classes to native church and community leaders," reports the Banner-Graphic. "Elementary schools contain stone seats with no desks," Ratcliff told the group, according to Shannen Hayes. "The blackboard is inadequate. Children wear donated
clothing and do not have shoes. At an orphanage where 54 kids live, they are bathed outside and own very few toys but receive two meals each day. 'That was better than most of the kids,' said Ratcliff."
The trip was made on behalf of Western Ohio Conference of United Methodist Church. Ratcliff plans to return to the region in June.
The complete story can be accessed at the newspaper's Web site.
Back