Ken Owen '82 Discusses DePauw's 'Monon Memories' on Statewide TV Show
November 9, 2008
Also: See All 'Monon Memories'; YouTube Link; Order a 2008 Monon Bell DVD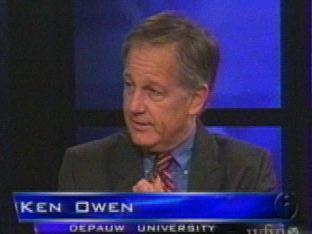 November 9, 2008, Greencastle, Ind. - "It is acknowleged as one of the greatest rivalries in college football," host Gerry Dick told viewers of his statewide television program as he introduced a segment on DePauw's recently-completed series of "Monon Memories." Ken Owen '82, creator of the historic videos, appeared on Inside Indiana Business with Gerry Dick, which is airing on 14 TV stations across the state this weekend.
Bill Benner, who interviewed Owen, introduced his guest as "a DePauw graduate and former Indianapolis TV newsman, and now executive director of media relations at DePauw." Benner is a former Indianapolis Star sportswriter who has covered a number of past battles for the Monon Bell. "It is a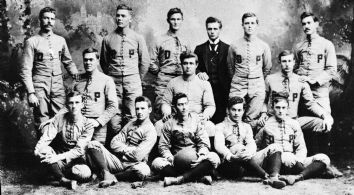 great, great rivalry, and anyone who's ever been to a Bell game knows that," he declared. (at right: 1891 DePauw football team)
Owen described how he began producing vignettes of past Bell games in 2002 so that producers of the annual telecast would have something to go to when timeouts were called. The goal, he told the program, was to

[Download Video: "The Origins of 'Monon Memories'" - 1812kb] "capture the flavor of the series over the years -- there are some great back stories -- and celebrate what we share as two schools."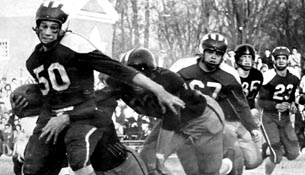 In DePauw's Archives, Owen found DePauw-Wabash game films dating back to 1940 and vintage photographs of the rivalry's early years. In creating the segments,

[Download Video: "Making Memories" - 1844kb] "I went backwards," he told Benner, making the 2001 "Monon Memory" first. "When I ran out of film I started getting into photos, and I thought at some point I'd hit the wall and have to stop doing them." The final clip -- for the inaugural game in 1890 -- was completed on October 2, so there are now videos for all 114 DePauw-Wabash football games. (at left: image from 1952 Monon Bell game)
The story of the Monon Bell series is about more than football, Owen noted.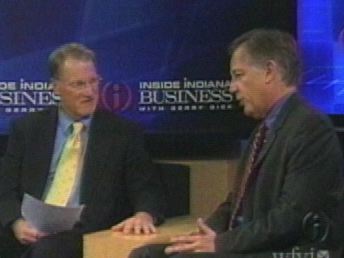 Many of the "Memories" include references to events that were making news in a given year, and of course, the rivalry has produced many colorful stories, from thefts of the Bell to some that have not been as widely recalled.

[Download Video: "The Back Stories" - 3301kb] "In 1919 the coach of DePauw had some health problems and had to stop coaching," Owen recalled, and some alumni stepped in. "Charles Jewett, who was mayor of Indianapolis, Fred Tucker, and two other businessmen drove to Greencastle every day to coach the football team."

[Download Video: "1919 Monon Memory" - 3702kb]
He also explained how in 1943, Bob Steuber, who had been an All-American halfback at Missouri,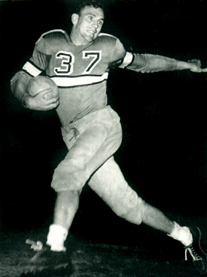 played a game for the Chicago Bears on a Sunday and was sent by the U.S. Navy to train at DePauw. Steuber wound up reviving his college football career (rules, of course, would prohibit such a thing today) and led the nation in scoring. The "Monon Memory" for the 1943 game includes a 1994 video interview with Steuber (pictured at left), who is in the College Football Hall of Fame.

[Download Video: "1943 Monon Memory" - 6910kb]
Owen and Benner also discussed Saturday's national telecast on HDNet and the alumni viewing parties that both schools will host in approximately 60 cities across the nation.

[Download Video: "The 2008 Game" - 3120kb] "Of course, we both want to win badly because there's another 51 weeks of the year where we're going to have to live with the outcome," Owen stated and added, "So, go DePauw."
The complete segment can be viewed at Inside Indiana Business.com.
All of the video clips will be included in a special commemorative 2-DVD set of the 2008 Monon Bell Classic, which is available for pre-order. Lower resolution versions of all "Monon Memories" can be found online by clicking here. (at right: advertisement for the 1936 game)
This week's Chronicle of Higher Education includes a story (and three vintage Monon Bell photos) on the "Memories," and HDNet is planning a feature which will run during halftime of Saturday's battle for the Bell.
Tickets for Saturday's game are still available. For information, access this article

[Download Video: "2007 Monon Memory" - 7808kb]
This year's contest will be the 77th for possession of the Monon Bell, which was introduced as the winner's prize in 1932. Wabash leads the all-time series 53-52-9, while DePauw leads in games played for the Monon Bell by a 36-34-6 count.
For comprehensive information on one of college football's greatest rivalries, visit the Monon Bell Web page.
Source: Inside Indiana Business
Back