Tigers Maul Rhodes, 28-12; Monon Bell is Next
November 8, 2008
Also: Game Day Photo Gallery
Also: Pre-Order Monon Bell DVD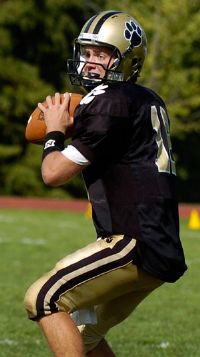 November 8, 2008, Greencastle, Ind. - Junior quarterback Spud Dick passed for 318 yards and two touchdowns and set two new all-time school records, leading DePauw University to a 28-12 Southern Collegiate Athletic Conference victory over Rhodes College at Blackstock Stadium. The Tigers -- who won all five of their home games this season -- improve to 7-2 overall and 5-2 in the SCAC, while the Lynx fall to 3-6 and 1-5.
A 25-yard touchdown pass from Dick to Bryan Mulligan put the Tigers on the scoreboard on their first drive and they never looked back. The Tigers took a 21-6 lead to the halftime locker room.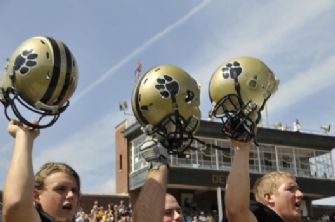 Dick completed 32-of-38 passes, one of them a 61-yard touchdown connection with Alex Koors. Mulligan had 11 receptions for 118 yards and one TD, while Koors grabbed 9 completions for 124 yards and the big score. Jon Ellis led a rushing attack that combined for 103 yards.
With today's performance, Dick became DePauw's all-time leader in completions (508) and passing yardage (6,300). He needed 29 completions and 54 yards to eclipse the marks held by Jeff Voris (504 completions and 6,035 yards) since 1989. His ninth 300+ yard passing game added to a mark he already holds. Last week, Dick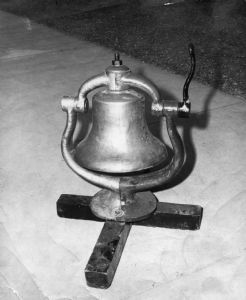 shattered Voris' record for total offense yards.
For comprehensive coverage of today's game and Tiger football, present and past, visit the team's online page. A brief summary appears in the Indianapolis Star.
The Tigers close out the 2008 season next Saturday at Wabash College in Crawfordsville, where the 115th Monon Bell Classic will be played. The contest will be nationally televised on HDNet.
One of college football's oldest and closest rivalries, Wabash leads the all-time series 53-52-9, while DePauw leads in games played for the Monon Bell (which was introduced in 1932 as the winner's prize) by a 36-34-6 count.
For an array of information on one of college football's greatest rivalries, visit the Monon Bell Web page.
Back