Mary Meeker '81 Previews "Coming Era of the Mobile Web"
November 11, 2008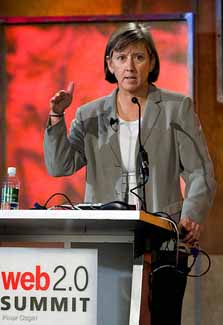 November 11, 2008, Greencastle, Ind. - "Every year at the Web 2.0 Summit, Morgan Stanley Internet analyst Mary Meeker gives her view of the world, the Web, and the technology industry by quickly going through about 50 slides that illustrate the major trends she is tracking," writes Erick Schonfeld in the Washington Post. "Last year, she zeroed in on the China Bubble. This year, she talks about the root causes of the current economic downturn, the outlook for Web businesses, and where she still sees major growth (mobile and emerging markets)." (photo at left: © Pinar Özger)
Meeker, a 1981 graduate of DePauw University, "singles out the mobile industry as the one where both the most opportunity will be found and disruption will occur over the next five years. Moreover, she suggests that the U.S. is poised to lead the transition in mobile to a Web-centric model. (I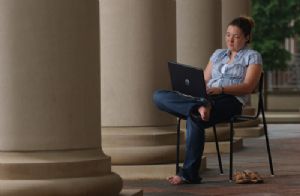 totally agree). Interestingly, she points to the introduction of the first Android phone by T-Mobile, not the launch of the iPhone, as the key inflection point for the coming era of the mobile web."
Access the complete text, "Mary Meeker's View Of The World In 50 Slides," at the newspaper's Web site.
Learn more about Meeker's appearance at the Web 2.0 Summit in this previous story.
Back