Monon Bell Classic is "Small College Football at its Finest," Declares Newspaper
November 11, 2008

[Download Video: "Ballad of the Monon Bell - 2007 Version" - 10,419kb]

[Download Audio: "Ballad of the Monon Bell - Stereo" - 2514kb]
Also: Monon Bell Ticket Information
Also: Pre-Order 2008 Monon Bell DVD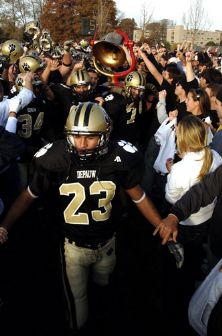 November 11, 2008, Greencastle, Ind. - "This is small college football at its finest. Wabash vs. DePauw. It's the purest form of a rivalry," reports Indiana's South Bend Tribune today. Al Lesar writes, "Saturday's 115th renewal (Wabash holds a 53-52-9 edge) of the war between the colleges barely 30 miles apart is special. Just ask the 12,000 people who will be watching, more than half of whom will be situated on portable bleachers on the perimeter of the stadium, and the television audience from across the country that will be tuned into Mark Cuban's HDNet."
"You realize you're not playing just for your team,"
DePauw junior wide receiver Nick Etzcorn tells the newspaper. "You're playing for the community; you're playing for the alumni; you're playing for that grad who wants to have bragging rights at his office for a year. It's huge."
Etzcorn adds, "This rivalry yells out college football. Nobody playing in this game is going to the NFL. Nobody out there is getting a shoe deal. The weather's always cold and nasty. It's the way college football should be played."

Lesar notes, "It was a wild game last year at DePauw. The Tigers trailed by eight with four minutes to play and ended up winning 24-21 with a late 47-yard field goal by Jordan Havercamp, a guy who had never kicked a field goal in college before."

[Download Video: "2007 Monon Memory" - 7808kb]
The complete article, "Battling to be Bell of the ball: Intensity makes Wabash vs. DePauw
no ordinary rivalry," at the newspaper's Web site.
The 115th Monon Bell Classic is set for Saturday at Little Giant Stadium in Crawfordsville. DePauw's allotment of tickets went on sale Monday, October 27. Details can be found in this recent story.
This year's telecast marks the third consecutive partnership between DePauw, Wabash and HDNet. Alumni will gather at telecast parties in nearly 60 cities to watch the battle for the Bell.
A special commemorative 2-DVD set of the 2008 Monon Bell Classic is available for pre-order. It will include the complete game, as well as "Monon Memories" of every battle for the Bell since 1890, when the rivalry began.

After more than six years of work, the clips were completed last month and were the subject of a feature story in last week's Chronicle of Higher Education and on the statewide TV program Inside Indiana Business with Gerry Dick.
Saturday's contest will be the 77th for possession of the Monon Bell, which was introduced as the winner's prize in 1932. Wabash leads the all-time series 53-52-9, while DePauw leads in games played for the Monon Bell by a 36-34-6 count.
For comprehensive information on one of college football's greatest rivalries, visit the Monon Bell Web page.
Back