MTV's The Hills Features Song by DePauw Student
November 12, 2008
November 12, 2008, Greencastle, Ind. - A song by Amy Coleman, a third-year student at DePauw University, was featured on Monday's episode of MTV's The Hills. Coleman's song, Butterflies, is featured 19 minutes and 37 seconds into the program, which is now available for viewing online.
Coleman is a mathematics major at DePauw. In her spare time, she has written and recorded songs at a studio in Los Angeles, several of which are posted on her MySpace page. She plans to graduate from DePauw this May, a year early.
"Carrie Hughes, chief music supervisor at MTV, sent me a message over MySpace during fall break saying that she really liked my sound and wanted to use my songs on The Hills," Coleman recalls. "I ended up choosing to license my 6-song EP to all of MTV Networks, which means my music can be used at any time on any MTV programming, which will hopefully get me quite a bit of exposure. I just sent the license back last Wednesday, and by Monday my song Butterflies had been placed just before the ending credits of the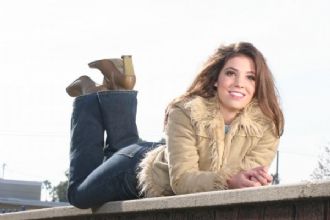 episode. I was (and still am) surprised at both how quickly Carrie was able to place one of my songs, and also that my song got such a prime spot. I was expecting maybe a short clip during a scene change, not the full ending chorus!"
Coleman, who is from Indianapolis, adds, "Overall, I feel incredibly lucky to have been in the right place at the right time. I hope that this might help my career in the future. Even if I decide to stick with my original plan and become an actuary, this is a unique experience that I am thankful for."
Back