'Life and Friendship' to be Celebrated in Thanksgiving Week Concert
November 20, 2008
November 20, 2008, Greencastle, Ind. - The DePauw University Orchestra will help the campus community celebrate Thanksgiving week by presenting a unique concert. The student musicians, directed by Orcenith Smith, will present "Life and Friendship" on Monday, November 24, at 7:30 p.m. in Kresge Auditorium of the Green Center for the Performing Arts. The program will be presented free of charge and is open to the public.
"When our society arrives at Thanksgiving week, we move into a time of year that suggests more time with friends and relatives, giving us reflection on the meaning of relationships," notes Professor Smith. "This concert is about those things."
The performance will feature Antonin Dvorak's Carnival Overture, and Modest Mussorgsky's Pictures at an Exhibition. Dvorak's Carnival is the second in a series of three symphonic poems under the title of "Nature, Life, and Love."
"The great Czech composer Dvorak sought to capture the essence of a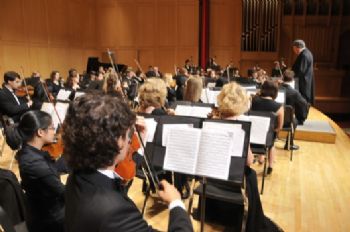 busy human scene, a carnival, with its lively shouts and unrestrained energies full to the brim," explains Smith. In contrast, Mussorgsky's Pictures was written upon the unexpected death of an artist friend. "Mussorgsky was moved to create a musical walk through an exhibition of the friend's life's work, with its individual pieces of art, and the emotional reflection and transition between them," says Smith. Originally, a solo piano work, the Mussorgsky Pictures at an Exhibition was later orchestrated by many composers, including the version by French composer Maurice Ravel which will be heard on the DePauw concert.
Learn more about the DePauw University School of Music by clicking here.
Back