Award-Winning Journalist Jane Pauley Returns to DePauw for Ubben Lecture, April 17
December 18, 2008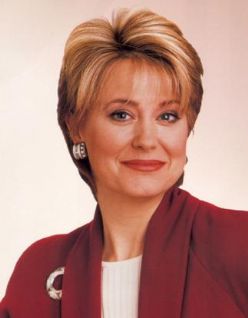 December 18, 2008, Greencastle, Ind. — Jane Pauley, the winner of multiple Emmys and the Edward R. Murrow Award for her contributions to journalism, will help celebrate the 100th anniversary of the founding of the Society of Professional Journalists with an April 17, 2009 speech at DePauw University. The 7:30 p.m. address will take place in Meharry Hall of historic East College, up the stairs from the room in which 10 DePauw student journalists founded Sigma Delta Chi (SPJ's original name) in May 1909. Presented by the Timothy and Sharon Ubben Lecture Series, the event is free and open to all.
The following day, Pauley and four other individuals will be inducted into the Indiana Journalism Hall of Fame, which is located in East College. Details on that ceremony, which takes place at DePauw's Walden Inn, can be found here.
Born and raised in Indianapolis, Jane Pauley received a degree in political science from Indiana University and began her career in 1972 as a reporter and anchor at Indianapolis CBS affiliate WISH-TV. Within three years, she became the first female evening news anchor in Chicago when she joined NBC-owned WMAQ, and by 1976 -- at age 25 -- she was behind the anchor desk at the peacock network's Today. Pauley's tenure on the popular morning program covered 13 years, and she interviewed thousands of newsmakers and presented reports from locations all over the world, including London for the weddings of Prince Charles and Prince Andrew; Rome, where Today televised its audience with Pope John Paul II; and the Great Wall of China. Along with co-anchor Bryant Gumbel, she was named 1986 Broadcaster of the Year by the International Radio and Television Society and Best in the Business by the Washington Journalism Review in 1990.

Pauley's lengthy resume also includes serving as weekend anchor of NBC Nightly News (she also served as Tom Brokaw's primary fill-in on that broadcast), and hosting Dateline, Real Life with Jane Pauley, the Jane Pauley Show, and Time & Again, a retrospective news program which aired on MSNBC. One of her NBC documentaries, "Women, Work and Babies," won a 1985 Humanitas Award.
In addition to the aforementioned Emmys and Murrow Award, Jane Pauley has been honored with the RTNDA's prestigious Paul White Award for her lifetime contribution to electronic journalism, as well as the Radio and Television News Directors Foundation's Leonard Zeidenberg First Amendment Award. She was also awarded the first national Matrix Award from the Association for Women in Communications, the AWRT's Gracie Allen Award for Outstanding Achievement by an Individual, and was inducted into the Broadcasting and Cable Hall of Fame in 1998. Pauley has also been the recipient of a Clarion Award, a National Press Foundation Award, a Gabriel Award, a Nancy Susan Reynolds Award, a Maggie Award, a Wilbur Award from the Religious Public Relations Council and a Salute to Excellence Award from the National Association of Black Journalists. She was named Communicator of the Year by the National Forensic League and was honored with a Living Legend Award by the Indiana Historical Society.
Pauley was inducted into the Indiana Broadcast Pioneers Hall of Fame in
2006, and is one of only a select few honored also with a lifetime

membership in the Hoosier broadcast organization.
In 2007, Pauley received the Walter Cronkite Award for Excellence in Journalism. "I have long been a great admirer of Jane Pauley, whose career embodies the very essence of this award," noted Cronkite, the legendary CBS newsman. "She is an award-winning journalist and journalism pioneer. Her standard of excellence as a news anchor and her in-depth interviews have earned her the respect of colleagues with whom she's worked -- and those of us who wish we had."

Pauley is a trustee of the Radio and Television News Directors Foundation, serves on the Advisory Board of Freedom from Hunger, and is the Honorary Chairperson of the Advisory Board of the Children's Health Fund. Pauley is also a fellow with the Society for Professional Journalists (SPJ) and Honorary Chair of the SPJ's Jane Pauley Task Force on Mass Communication Education. She is also a past board member of PENCIL (Public Education Needs Civic Involvement in Learning).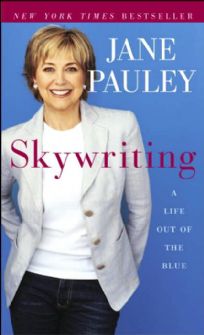 Pauley also serves as a powerful advocate in the field of mental health. In her 2004 bestselling memoir, Skywriting: A Life Out of the Blue, the veteran journalist wrote candidly about being diagnosed with mental illness at the age of 50 after medical treatment for hives triggered a previously unrecognized vulnerability to bipolar depression.

On May 21, 1978, Pauley became the youngest recipient of an honorary degree in the history of DePauw University. She has also received honorary degrees from Notre Dame University, Providence College, and her alma mater, Indiana University.
Her husband, Garry Trudeau, was DePauw's commencement speaker in 1983.
Founded in 1909 on the DePauw campus, the Society of Professional Journalists is the nation's most broad-based journalism organization, dedicated to encouraging the free practice of journalism and stimulating high standards of ethical behavior. SPJ promotes the free flow of information vital to a well-informed citizenry through the daily work of its nearly 10,000 members; works to inspire and educate current and future journalists through professional development; and protects First Amendment guarantees of freedom of speech and press through its advocacy efforts.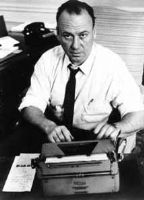 The long line of noted journalists who received DePauw degrees includes Bernard Kilgore '29, the former managing editor of the Wall Street Journal, who was named "Business Journalist of the Century"; Kenneth C. Hogate '18, former managing editor of the Wall Street Journal who became chairman of the board of Dow Jones & Co.; Eugene C. Pulliam '10, a co-founder of SPJ and owner of 46 newspapers over the course of his career; Pulitzer Prize-winner James B. Stewart '73; and John McWethy '69, former chief national security correspondent for ABC News. Learn more in this story.
Created by a gift by 1958 DePauw graduates Tim and Sharon Williams Ubben, the Ubben Lecture Series was established in 1986. Designed to "bring the world to Greencastle," it brought humanitarian Greg Mortenson, authorof Three Cups of Tea: One Man's Mission to Promote Peace ... One School at a Time, to campus November 13.
Over the past 22 years, other Ubben Lecturers have included: Tony Blair, Mikhail Gorbachev, Benazir Bhutto, Gen. Colin Powell, Ross Perot, Shimon Peres, Margaret Thatcher, John Major, Andrew Young, Paul Volcker, General Wesley Clark, ice cream entrepreneurs Ben & Jerry, Barbara Bush, E.O. Wilson,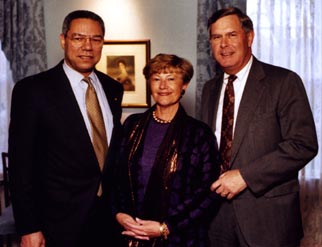 Robert Gates, Elie Wiesel, L. Paul Bremer, Ralph Nader, Eric Schlosser, Zbigniew Brzezinski, Naomi Wolf, Jesse Jackson, Spike Lee, Mike Krzyzewski, Doris Kearns Goodwin, Peyton Manning, Hotel Rwanda's Paul Rusesabagina, Willy Brandt, PostSecret founder Frank Warren, Brian Mulroney, Mitch Albom, Lynne Cheney and Harry Belafonte. (at right: Tim and Sharon Ubben with Gen. Colin Powell, November 2, 1994)
To view a complete roster of Ubben Lecturers, which includes links to video clips and news stories, click here.
A video retrospective of the Ubben Lecture Series -- produced by DePauw students -- was premiered in June over Alumni Reunion Weekend. Read about the project, and view the piece, via this article.
Back