Indianapolis ABC Affiliate Previews the 115th Monon Bell Classic
November 13, 2008
Also: Monon Bell Ticket Information
Also: Pre-Order 2008 Monon Bell DVD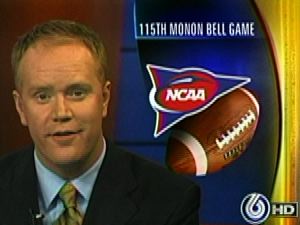 November 13, 2008, Greencastle, Ind. -

[Download Video: "WRTV Previews the Bell Battle" - 614kb] "There are plenty of college football games this weekend, but with all due respect, there's only one for the Monon Bell," declared Dave Furst on Indianapolis ABC affilliate WRTV's 11 p.m. newscast tonight. The lead story in his sportscast was a preview of Saturday's 115th battle for the Bell.
For the piece, reporter Brad Brown traveled today to both DePauw University and Wabash College. The story opens in Crawfordsville and shows the undefeated Little Giants practicing for the big game. Brown notes that the capacity of the Wabash stadium -- normally about 5,000 -- has been increased to 12,000 with the addition of portable bleachers for the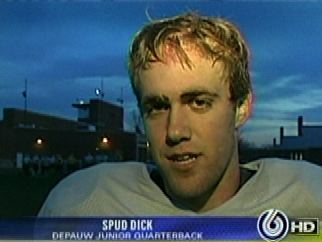 annual rivalry game.

[Download Video: "A Look at the Stadium" - 827kb]

[Download Video: "WRTV at DePauw" - 1700kb] "Down the road at DePauw, the Tigers are getting ready to defend the Bell," reports Brown. "Junior quarterback Spud Dick has broken school records for total offense and passing yards this season."
"I don't think we have any problem getting excited for the game, especially since they're ranked top five in the country and undefeated, and we have the Bell and we've gotta protect that," Dick tells the station. "So I think our guys are going to be ready and definitely have some fire going into this weekend."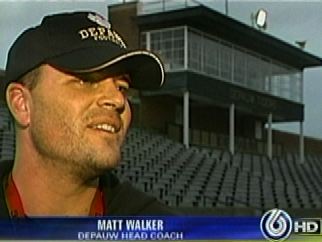 Matt Walker '99, head coach of the 7-2 DePauw squad, adds, "You don't have to worry about the focus or the intensity. These guys are ready to go and are as focused and prepared as they've ever been because they know the importance of this game."
Visit RTV6 online.
Saturday's game kicks off at 1:07 p.m. and some tickets remain available. Details on purchasing tickets be found in this recent story.
This year's telecast marks the third consecutive partnership between DePauw, Wabash and HDNet. Alumni will gather at telecast parties in nearly 60 cities to watch the battle for the Bell.
A special commemorative 2-DVD set of the 2008 Monon Bell Classic is available for pre-order. It will include the complete game, as well as "Monon Memories" of every battle for the Bell since 1890,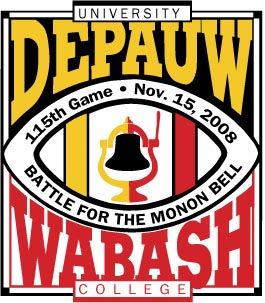 when the rivalry began. After more than six years of work, the clips were completed last month and were the subject of a feature story in last week's Chronicle of Higher Education and on the statewide TV program Inside Indiana Business with Gerry Dick.
The presidents of DePauw and Wabash issued a joint letter to fans this week.
Saturday's contest will be the 77th for possession of the Monon Bell, which was introduced as the winner's prize in 1932. Wabash leads the all-time series 53-52-9, while DePauw leads in games played for the Monon Bell by a 36-34-6 count.
For comprehensive information on one of college football's greatest rivalries, visit the Monon Bell Web page.
Back