ESPN Founder Bill Rasmussen '54 Finds Bell Videos "Absolutely Amazing"
November 14, 2008

[Download Video: "Ballad of the Monon Bell - 2007 Version" - 10,419kb]

[Download Audio: "Ballad of the Monon Bell - Stereo" - 2514kb]; Monon Bell Ticket Information; Pre-Order 2008 Monon Bell DVD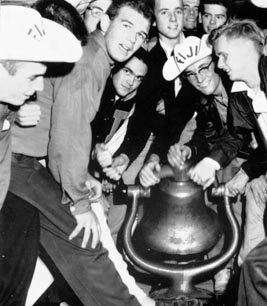 November 14, 2008, Greencastle, Ind. - "Over the 114 year period of the rivalry there have been dozens of exciting-memorable games -- last minute field goals, touchdowns, interceptions, defensive stops -- the list goes on," writes Bill Rasmussen at CollegeFanz.com. Rasmussen, founder of ESPN and 1954 graduate of DePauw University, continues, "Students and alumni alike may remember a play or a game or some other event surrounding the Monon Bell week at each campus, but nobody absolutely nobody does Monon Memories like Ken Owen, DePauw '82, executive director of media relations at DePauw." (at left: DePauw students celebrate with the Monon Bell after the thrilling 1955 game)
The column continues, "Ken has researched all 114 DePauw-Wabash games and has produced an absolutely amazing series of vignettes for every game played. That's right EVERY game ... One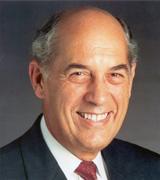 Incredible Feat! The story of the Monon Bell series is about more than football, Owen noted. Many of the 'Memories' include references to events that were making news in a given year, and of course, the rivalry has produced many colorful stories."
Read more here. Rasmussen also discusses the DePauw-Wabash rivalry in another piece.
Saturday's game was the subject of a report last night by Indianapolis ABC affiliate WRTV and an article Wednesday in the South Bend Tribune. And the "Monon Memories" have been covered in recent days by the Chronicle of Higher Education and television's Inside Indiana Business with Gerry Dick. Access all the Monon Memories here and on YouTube. (at left: 1983 Monon Bell game)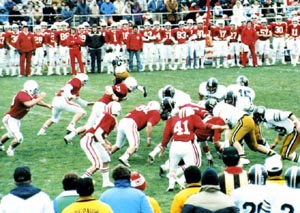 Saturday's game kicks off at 1:07 p.m. and some tickets remain available. Details on purchasing tickets be found in this recent story.
This year's telecast marks the third consecutive partnership between DePauw, Wabash and HDNet. Alumni will gather at telecast parties in nearly 60 cities to watch the battle for the Bell.
A special commemorative 2-DVD set of the 2008 Monon Bell Classic is available for pre-order. It will include the complete game, as well as "Monon Memories" of every battle for the Bell since 1890, when the rivalry began. After more than six years of work, the clips were completed last month.
The presidents of DePauw and Wabash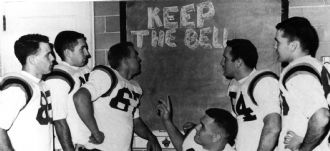 issued a joint letter to fans this week.
Saturday's contest will be the 77th for possession of the Monon Bell, which was introduced as the winner's prize in 1932. Wabash leads the all-time series 53-52-9, while DePauw leads in games played for the Monon Bell by a 36-34-6 count.
For comprehensive information on one of college football's greatest rivalries, visit the Monon Bell Web page.
Back