Wintry Forecast for Tomorrow's Battle for the Bell
November 14, 2008
Also: Pre-Order 2008 Monon Bell DVD
Also: View 'Monon Memories' of All Past Games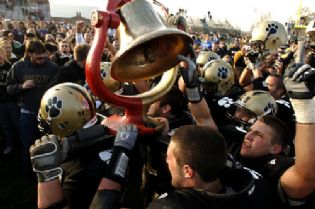 November 14, 2008, Greencastle, Ind. - "41 degrees and a chance for snow -- could you imagine a better possible scenario for the 115th meeting between DePauw and Wabash with the coveted Monon Bell at stake?," asks the lead sentence in a story published in today's Banner-Graphic. Caine Gardner writes, "The Monon Bell Classic goes well beyond the game. According to the DePauw University Web site, there are at least 57 Alumni events slated to celebrate the game. The events span the United States from Colorado to Florida and include pitch-ins, flag football games and the sharing of memories are just a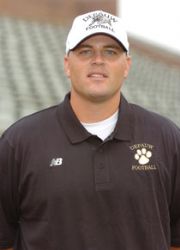 few of the festivities planned and the things that make this game like no other."
DePauw's Matt Walker, a 1999 graduate who played in the Monon Bell Classic and is in his third year as the Tigers' head coach, calls the week leading up to the rivalry, "Indescribable. There is absolutely nothing else that brings our campus together like Monon Bell week. The support of our campus and alumni the week of the game is a very exciting moment. To be part of the team and to be the guys out there actually doing the fighting for your school is a real honor and something we take very seriously," he says.
Walker's team enters the big game with a 7-2 record, the same as last November when the Tigers upset an undefeated and playoff-bound Wabash team. According to Gardner, "Execution is something both squads have had success doing this season, Wabash's first-year head coach Erik Raeburn has his team sitting at 9-0 and ranked No. 2 in Division III. Walker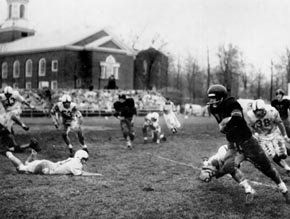 acknowledged that Raeburn knows what it takes to win a big game and has a lot of talent at his disposal that has done a great job all year. He expects nothing less that that on Saturday."
Read the complete article at the newspaper's Web site. You'll find another story in today's Paper of Montgomery County (at left: 1958 Monon Bell game)
Saturday's game was the subject of a report last night by Indianapolis ABC affiliate WRTV and an article Wednesday in the South Bend Tribune.
The 115th battle for the Monon Bell kicks off at 1:07 p.m. and some tickets remain available. Details on purchasing tickets be found in this recent story.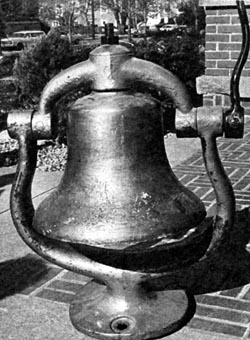 This year's telecast marks the third consecutive partnership between DePauw, Wabash and HDNet. Alumni will gather at telecast parties in nearly 60 cities to watch the battle for the Bell.
A special commemorative 2-DVD set of the 2008 Monon Bell Classic is available for pre-order. It will include the complete game, as well as "Monon Memories" of every battle for the Bell since 1890, when the rivalry began. After more than six years of work, the clips were completed last month.
The presidents of DePauw and Wabash issued a joint letter to fans this week.
Saturday's contest will be the 77th for possession of the Monon Bell, which was introduced as the winner's prize in 1932. Wabash leads the all-time series 53-52-9, while DePauw leads in games played for the Monon Bell by a 36-34-6 count.
For comprehensive information on one of college football's greatest rivalries, visit the Monon Bell Web page.
Back