Judson Green '74 Honored by U of Chicago Graduate School of Business
November 14, 2008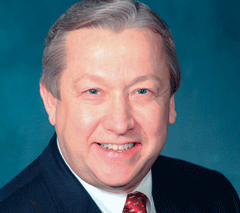 November 14, 2008, Greencastle, Ind. - Judson C. Green, president & CEO of NAVTEQ Corporation and 1974 graduate of DePauw University, is the recipient of the Corporate Alumni Award from the University of Chicago Graduate School of Business. Green received his M.B.A. from that institution in 1976. He was honored last weekend at a celebration which took place at Chicago's Lincoln Park Zoo.
The citation notes that Green had a long career with the Walt Disney Company and "held several executive financial positions -- including CFO -- until he was named president of Disney's theme park and resort division. Named president in 1991, Green was central in Walt Disney's expansions of Disneyland, Disney Cruise Lines, Tokyo Disney, and Disneyland Paris. He signed an agreement with the Hong Kong government to build the first

Disney theme park in China. He led the most ambitious decade of growth ever experienced in the theme parks and resort industry. On his watch from 1991 through 1999, Disney revenues doubled to $6 billion. From 1994 through 1998, Disney theme parks showed record earnings, and in 1999 Disney experienced record attendance levels. Green was named chairman in 1998, a post he held until 2000."
It continues, "Seeing the change in technology -- and sensing the market opportunity -- Green joined Navigation Technologies (NAVTEQ) in 2000. The year before, the digital mapmaker had posted losses of around $100 million. At Green's direction, 150 employees drove the roads of the United States using state-of-the-art mapping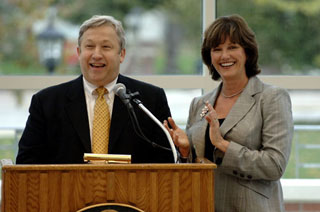 techniques. Now known as NAVTEQ, the firm has grown beyond its core navigation business to a broad range of applications, such as voice-enabled maps."
Read more by clicking here.
Judson Green is a member of DePauw's Board of Trustees and is former chair of the panel. Learn more about him in this previous story.
A lead gift by Judson and Joyce Taglauer Green '75 made possible the $29 million expansion and renovation of DePauw's Performing Arts Center. Now known as the Judson and Joyce Green Center for the Performing Arts, the building was dedicated in 2007. A summary of the ceremony -- including video and audio clips and photographs -- can be found in this article.
Back