115th Version of "Timeless Indiana Classic" Kicks Off at 1:07 This Afternoon
November 15, 2008
Also: List of Today's Telecast Parties
Also: Pre-Order 2008 Monon Bell DVD

[Download Video: "Ballad of the Monon Bell - 2007 Version" - 10,419kb]

[Download Audio: "Ballad of the Monon Bell - Stereo" - 2514kb]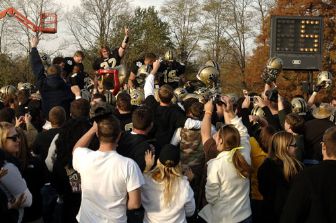 November 15, 2008, Greencastle, Ind. - "Just how seriously do Wabash and DePauw fans take the annual Monon Bell football game?," asks Ken Thompson in today's Lafayette Journal & Courier. "More than 60 telecast parties will take place from coast to coast, watching the HDNet telecast," he notes, and the two schools are taking pre-orders for a commemorative DVD of the 115th Classic. "Not even the forecast of a damp, chilly day will diminish the enthusiasm of 12,000 fans crammed into Hollett Little Giant Stadium today. That passion matches the weight of the 300-pound steam locomotive's bell, which has been the prize in this series since 1932."
The article recaps last year's 24-21 DePauw victory in Greencastle, and today's renewal of the historic rivalry, a "matchup of two teams who could be mirror images." Wabash is 9-0 and ranked #2 or #3, depending upon which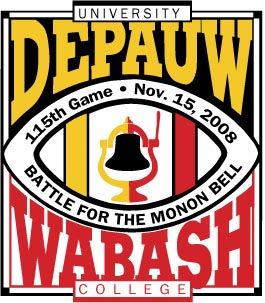 national poll you look at. DePauw is 7-2. The teams entered last year's thriller with the exact same records.
"Their quarterback is great," Wabash coach Erik Raeburn says of DePauw junior Spud Dick, who has smashed Tiger all-time passing records this season. "He is the best passer we have seen this year. He looks off his receivers well and has a very good receiving corps. This is an outstanding combination of talent."
Thompson points out, "After 114 games in the series, the difference is one victory (Wabash 53-52-9). However, DePauw leads in Monon Bell contests 35-33-6." Kickoff is at 1:07 p.m.
Meanwhile, Michael Pointer writes in the Indianapolis Star that "Dick isn't quite sure how to top last year's Monon Bell Game. The Tigers upset Wabash 24-21 on Jordan Havercamp's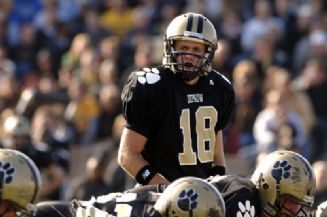 47-yard field goal as time expired, touching off celebrations for DePauw alums across the country and leaving their school just one game behind the Little Giants in one of college football's most storied rivalries."

[Download Video: "2007 Monon Memory" - 7808kb]
"When it went through the uprights, there was a moment of disbelief," Dick recalls. "But then there was absolute joy to have the Bell back."
The stage is set for "another chapter in this timeless Indiana classic [to be] written today," according to Pointer in a story accompanied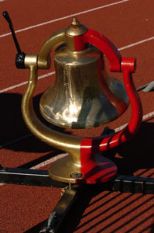 by two photographs.
Matt Walker, the Tigers' head football coach and 1999 graduate of DePauw, says the rivalry dating back to 1890 is special. "I compare it to the Indianapolis 500. I attended my first Bell game in 1985, the same year I went to my first 500. I haven't missed either one since. I think there's probably a lot of other people who do the same thing."
Read more in today's Journal & Courier and Star. More features can be found in the Paper of Montgomery County.
Yesterday, Spud Dick was interviewed by Indianapolis' 1070 The Fan.
A special commemorative 2-DVD set of the 2008 Monon Bell Classic is available for pre-order. It will include the complete game, as well as "Monon Memories" of every battle for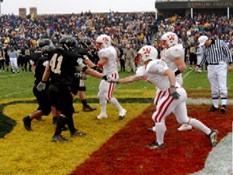 the Bell since 1890, when the rivalry began. After more than six years of work, the clips were completed last month and were the subject of a feature story in last week's Chronicle of Higher Education and on the statewide TV program Inside Indiana Business with Gerry Dick.
The presidents of DePauw and Wabash issued a joint letter to fans this week.
For comprehensive information on one of college football's greatest rivalries, visit the Monon Bell Web page.
Back