DePauw and Wabash Presidents Appear Together on National Bell Telecast
November 15, 2008
November 15, 2008, Greencastle, Ind. - The presidents of DePauw University and Wabash College, Brian W. Casey and Patrick White, made a joint appearance during the national telecast of today's 115th Monon Bell Classic. The three-and-a-half-minute interview was conducted during halftime by HDNet's Ron Kruck.

[Download Video: "Presidents Casey and White" - 8811kb] "Beneath all of the hype and wanting to take the Bell back there's a lot of mutual respect between the two schools," Dr. Casey stated. "We have faculty exchanges, we have student exchanges. As Pat pointed out, half of my faculty is married to half of his faculty, so there's a lot of interlocking. But at its heart, the two schools actually deeply respect each other."
"We have a lot of respect for one another and we look forward to additional cooperation between the two schools," Dr. White asserted.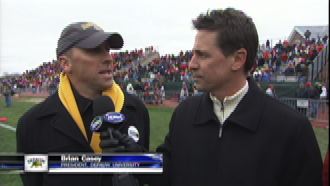 Earlier this week, the two leaders issued what is believed to be an unprecedented joint letter to Monon Bell fans from both colleges. The letter appeared in both the DePauw and Wabash student newspapers and on the two institutions Web sites. Learn more in this story.
For details of today's Monon Bell game -- including video highlights -- click here.
Back