2007 Monon Bell Hero Jordan Havercamp Featured in TV Story
November 14, 2008
November 14, 2008, Greencastle, Ind. -

[Download Video: "They No Longer Ask 'Who'?" - 1543kb] "Now I have to live up to what I did last year, and that makes me work harder and I love that," DePauw University junior Jordan Havercamp tells Indianapolis' WXIN/FOX 59. The television station ran a lengthy feature in its evening newscast tonight on Havercamp, whose first collegiate field goal won the 114th Monon Bell Classic last November.

[Download Video: "2007 Monon Memory" - 7808kb]
As it happened, two students working at DePauw's D3TV produced a humorous feature on Havercamp days before last year's DePauw-Wabash game. Scott Reasoner and Brice Bledsoe's piece, "Who is Jordan Havercamp?" asked,

[Download Video: "The Video" - 2001kb] "What makes up the poise, mystique and figure of a backup kicker"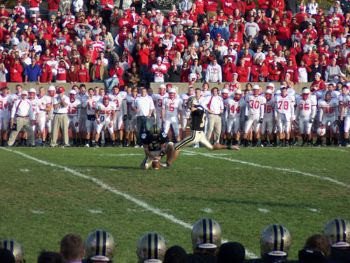 as a big game approached.
Havercamp, who is a fraternity brother of Bledsoe and Reasoner, was in on the joke and enjoyed the humorous video. Days later, he had the last laught when he booted the 47-yard field goal that returned the Monon Bell to Greencastle and was featured as an ESPN "Play of the Day."
"Coach (Matt) Walker called me over and asked me, 'Can you make this?,' I said, 'Yes, I can," recalls Havercamp. "I got nervous at the last second when the ball was snapped and all of a sudden I kicked it and it was in."
Ian Yearwood, a senior offensive lineman, says, "For Havercamp it's completely changed things. He's kind of a big man on campus now, everybody knows his name. Before, we hardly knew his name," he jokes.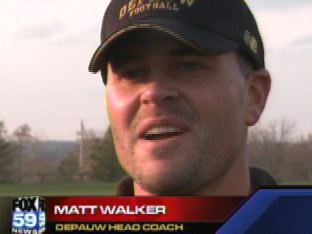 The piece begins with a look at the Tigers' efforts to keep hold of the Bell this year.

[Download Video: "The Winner's Prize" - 1004kb] "You look at it every day knowing that you won that last year," says senior defensive back Marc Hoeppner.
Adds Matt Walker '99, the team's head coach, "It's amazing how one piece of hardware can affect a full year period like this one does."
Last night, Indianapolis ABC affiliate WRTV previewed Saturday's Monon Bell Classic, which kicks off at 1:07 p.m. in Crawfordsville.
For comprehensive information on one of college football's greatest rivalries, visit the Monon Bell Web page.
Back