HDNet Spotlights 'Monon Memories' During National Telecast
November 15, 2008
November 15, 2008, Greencastle, Ind. -

[Download Video: "'Monon Memories' Feature" - 10,711kb] "What we've really tried to do with this series is to focus on the things we share," Ken Owen, executive director of media relations at DePauw University, says of his recently completed "Monon Memories." The video vignettes, which commemorate the complete history of the football rivalry between DePauw and Wabash College, were spotlighted during halftime of today's national telecast of the 115th Monon Bell
Classic on HDNet.
"DePauw and Wabash have a great history," Owen adds.
"He's done a wonderful job putting together these 'Monon Memories' and just adding to the history of this game," Matt Walker '99, the Tigers' head football coach, says in the piece. "It's definitely something that I'll treasure and something I show my family and friends, a really neat thing he's added to this rivalry."
"He sees how emotional people are about the rivalry and just wanted to find a way to capture that," Bill Wagner, director of sports information at DePauw, adds.
Wes Wilson, coordinator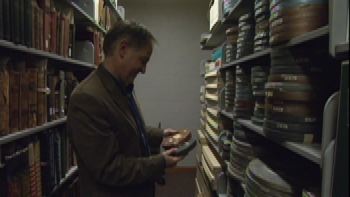 of the University's Archives, is also seen in the featurette. "It's been really important to us because now we have, in one place, the documentation of that rivalry from the beginning." Wilson adds, "He's digging up things that I didn't even know existed."
The four minute segment describes how Owen, a 1982 graduate of DePauw, started the project with a goal of creating a dozen segments that could be played during timeouts of the annual game telecast and went on to finish the complete series of games dating back to the first contest in 1890.
See the complete piece here:

[Download Video: "'Monon Memories' Feature" - 10,711kb] or on YouTube.
"Monon Memories" have also recently received coverage from the Chronicle of Higher Education and television's Inside Indiana Business with Gerry Dick.
ESPN founder and 1954 DePauw graduate Bill Rasmussen also offered praise for the clips.
Access all the Monon Memories here. (at right: DePauw's 1893 football team)
The 2008 "Monon Memory" will be posted early next week and will be included -- along with all the other clips -- on the DVD of this year's battle for the Bell. Order it here.
For details of today's Monon Bell game -- including video highlights -- click here.
Back