Tiger Triumph Earns TV Coverage
November 15, 2008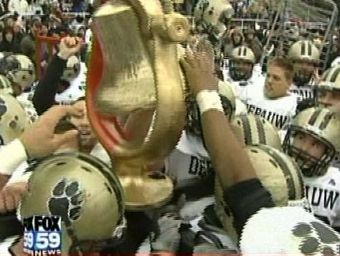 November 15, 2008, Greencastle, Ind. -

[Download Video: "A Clip from FOX 59" - 2122kb] "Remember, Wabash was unbeaten and #2 in Division III in the country. Not so fast," noted Indianapolis FOX affiliate WXIN during the Monon Bell highlights it aired during its late newscast tonight. The station's 10 p.m. broadcast included footage of the game and post-game interviews with Spud Dick and Casey Ellinger.
DePauw opened a 30-0 lead against their rivals and coasted to a 36-14 victory in Crawfordsville for their second consecutive Monon Bell victory.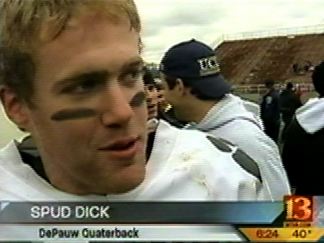 "Coming into the game I thought we were the better team and, you know, I knew there was stuff we could exploit in their defense," Dick told the station as his teammates celebrated behind him.
NBC affiliate WTHR was also on hand for today's 115th Monon Bell Classic. Dick, the team's record-setting quarterback who threw for two touchdowns on the day, also appears in video which aired in the station's 6 p.m. newscast.

[Download Video: "WTHR Clip" - 2637kb]
For details of today's Monon Bell game -- including video highlights -- click here.
A special commemorative 2-DVD set of the 2008 Monon Bell Classic is available here. It will include the complete game, as well as "Monon Memories" of every battle for the Bell since 1890, when the rivalry began.
Back