'Inspired DePauw Makes it 2 in Row' Declares Indianapolis Star Headline
November 16, 2008
Also: Order Your 2008 Monon Bell DVD
November 16, 2008, Greencastle, Ind. - "DePauw freshman cornerback Steve Valdiserri was inspired listening to the Tigers' senior captains speak to the team before the Monon Bell Game against Wabash on Saturday," begins a story which appears at the top of the front page of today's Indianapolis Star sports section. "'It brought up a lot of emotions,' he said. 'A lot of guys broke down.' Once the Tigers took the field, no one played more like a veteran than Valdiserri. The former Bishop Chatard High School standout had first-half interceptions that set up touchdowns and broke up two passes as DePauw surprisingly routed NCAA Division III No. 2-ranked Wabash 36-14 before 11,243 chilled fans at Byron P. Hollett Little Giant Stadium."
Michael Pointer writes, "DePauw's victory left the teams even at 53-53-9 in the storied rivalry's 115-game history. The Tigers (8-2) thwarted the Little Giants' hopes of a perfect regular season for the second straight year. Wabash also was 9-0 entering last season's matchup before losing 24-21 at DePauw. That game was decided on a last-second field goal. Saturday's game was dominated by the Tigers almost start to finish."
Junior quarterback Spud Dick, who became DePauw's all-time leading passer during what Pointer calls a "brilliant" season, tells the Star, "All week, we knew they were going to play cover-2 the majority of the time with those corners
inside. You don't want to come out and say you can exploit it, but all week, we thought we could. And I think we did."
"Those two state titles at Chatard were big,'' Valdiserri says. "But playing with a bunch of guys that are older than me and the history of this game, the emotion here is definitely greater."
Access the complete article -- "Inspired DePauw makes it 2 in row: Interceptions by freshman Valdiserri lead to 2 touchdowns as DePauw evens series record" -- at the newspaper's Web site, and be sure to click on the Star's accompanying photo gallery.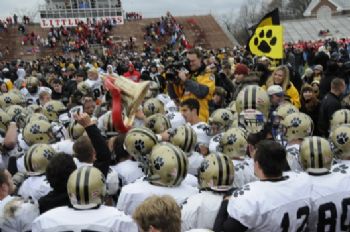 A postgame write-up from yesterday -- which includes video highlights from the national telecast on HDNet -- can be found here. Television coverage of the battle for the Bell is detailed in this article.
A special commemorative 2-DVD set of the 2008 Monon Bell Classic is available here.
For comprehensive coverage of the Tiger football team, the 115th Monon Bell Classic and the rivalry which began in 1890, click here.
Back