Senior and Alumnus Both Advance to Regional Vocal Competition
November 18, 2008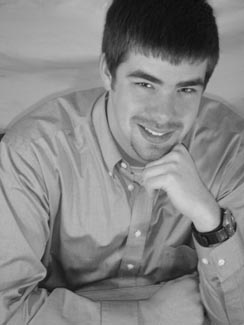 November 18, 2008, Greencastle, Ind. - Carl Frank, a senior vocal performance major at DePauw, and Steven Linville, a 2006 graduate of the University's School of Music, are state winners in the 2008-09 Music Teachers National Association's vocal competition. Both advance to compete in the regional Young Artist Division competition, which will take place January 16-18, 2009 at Oberlin Conservatory in Ohio. (at left: Carl Frank; below right: Steven Linville)
Frank, a baritone, will be the representative from the Illinois state competition while Linville emerged as the winner from Indiana. Both will compete against representatives of the East Central Division (Illinois, Indiana, Michigan, Ohio, and Wisconsin). The division winner will
advance to the national competition on March 28-April 1, 2009 in Atlanta, Georgia, where representatives from all seven divisions will display their talents.
For the state competitions, Frank and Linville each had to prepare a program of at least eight works in various languages and covering various time periods. Both are voice students of Caroline B. Smith, professor of music, and will be accompanied to the regionals by Amanda Hopson, adjunct associate professor of music.
"This is a competition where each singer must perform not only in different languages but also must perform operatic and oratorio repertoire in addition to art songs," notes Smith. "It is a credit to both Steven and Carl that they have won their state divisions. Their success is well-deserved."
Visit the DePauw University School of Music online.
Back