Legendary Chemist Percy Julian '20 Recalled in Investor's Business Daily
November 18, 2008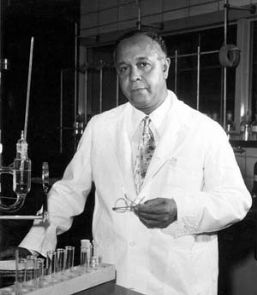 November 18, 2008, Greencastle, Ind. - An Investor's Business Daily article on Percy Julian, the legendary chemist and 1920 graduate of DePauw University, notes that "a DePauw chemistry professor, William Blanchard, saw his potential and encouraged him to become a research chemist. More inspiration came from a man named St. Elmo Brady, the only other black American at that point to get a doctorate in chemistry. Already Julian had a gift that would serve him well: sheer grit."
Amy Reeves writes, "The driven Julian graduated first in his class from DePauw. Yet he faced more distance toward a doctorate. He had to find a graduate school. None would have him." Julian eventually received a grant to study at the University of Vienna, where he earned his doctorate in chemistry in 1931, but as a young African-American scientist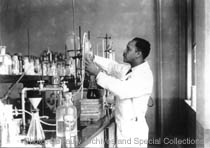 found that jobs were scarce.
"Fortunately, his DePauw mentor, Blanchard, got him a job at his alma mater. That's where Julian made his first major breakthrough. He knew that a British chemist was working on a synthesizing physostigmine, a plant chemical used to treat glaucoma. If physostigmine could be cooked up in a lab rather than drawn from natural sources, it would be cheaper to produce. Julian saw a simpler way to blend the chemical -- and in 1934 was the first to synthesize physostigmine."
The article notes, "Percy Julian was one of the great industrial chemists who made key drugs affordable to the public. His research was instrumental in manufacturing cortisone ... He also figured out how to synthesize many human hormones from plants, producing drugs ranging from birth control to glaucoma treatments. These achievements are remarkable on their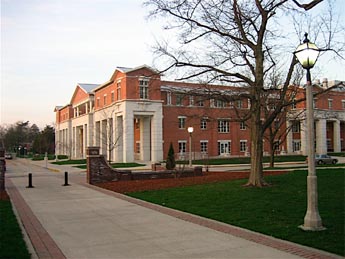 own. Julian (1899-1975) did all that as only the second black American in history to earn a doctorate in history."
"Because he was African-American, he never had the resources his competitors had," Gregory Petsko, chemistry professor at Brandeis University, tells the newspaper. "What he would have done with proper facilities positively boggles the mind."
Learn more in this previous story, and visit DePauw's Percy Julian Web site by clicking here.
DePauw's Percy Lavon Julian Science and Mathematics Center (pictured above left) stands as a tribute to the great chemist.
Back