2008 Monon Bell DVD Now at Factory, Will Ship Soon
November 22, 2008
Also: Online DVD Order Form

[Download Video: "2008 Monon Memory" - 4105kb]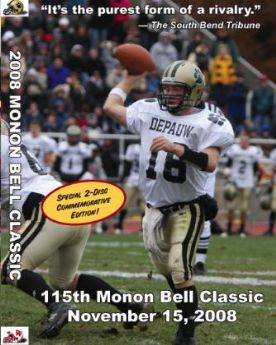 November 22, 2008, Greencastle, Ind. - The special, limited edition 2-DVD collector's set of the 115th Monon Bell Classic is now at the factory being replicated, and should ship during the second week of December. The project is a joint effort of DePauw University and Wabash College. (at left: front cover DVD art)
"My colleague at Wabash, Jim Amidon, and I put in some long hours over the weekend to get this out the door as quickly as possible, and we're thrilled to announce that masters and art were shipped to the manufacturer 72 hours after the game was completed," says Ken Owen '82, executive director of media relations at DePauw. "I'm confident that those who have pre-ordered the disc will be very pleased with the fruits of our efforts, even if some of our friends to the north may not be crazy about the outcome of the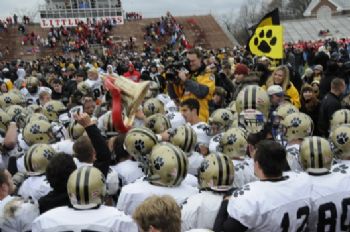 game."
Disc one includes this year's game in its entirety in anamorphic widescreen (enhanced for 16x9 televisions), as it appeared on HDNet last Saturday. Viewers will also find a bevvy of bonus features, including the two schools' institutional messages (DePauw's was student-produced), halftime features (including a look at the making of "Monon Memories" and an interview with DePauw President Brian Casey and his Wabash counterpart, Pat White), the music video for The Ballad of the Monon Bell, hundreds of images from battles for the Bell past and present, and a few surprises.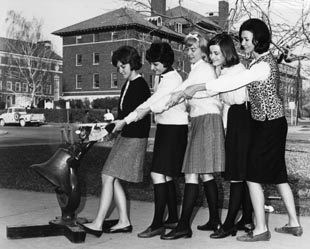 The second disc features all 115 "Monon Memories" which can be played in sequence or selected individually. The video vignettes, documenting every game in the rivalry's rich history, were recently featured in the Chronicle of Higher Education.
Combined, the discs include nearly 7 hours of content.
"It's always a special pleasure to collaborate on the Monon Bell DVD project, but this year it was especially gratifying," says Amidon, director of public affairs and marketing at Wabash College. "Knowing how many additional special features were going into this year's commemorative two-DVD set made it an exciting project. And I'm sure fans from both DePauw and Wabash will be pleased with the final product. From the 'Monon Memories' that cover every game ever played in the series, to hundreds of game and archival photos, this is the package to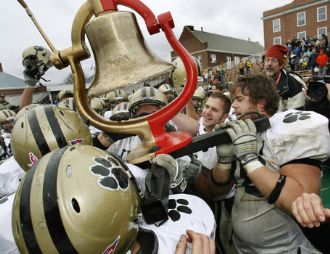 have in your DVD collection."
The 2008 photo gallery was compiled by DePauw junior Alex Turco, and features many of his images.
The package is available for $19.95 (a $3 shipping and handling charge will be added to each order) and only 500 sets will be replicated. Orders may be placed online via this link. Also available are the DVDs of the 2001-07 Monon Bell Classics (supplies of the 2002 and 2007 discs are extremely limited).
For coverage of the 115th Monon Bell Classic -- including video highlights -- read this story. A complete roster of "Monon Memories" can be accessed by clicking here. You're also invited to visit DePauw's Monon Bell Web page.
Back