Lee Hamilton '52 on CNN's "Short List" for UN Ambassador
November 25, 2008
November 25, 2008, Greencastle, Ind. - Lee H. Hamilton, veteran statesman and 1952 graduate of DePauw University, is one of three "potential contenders" for the post of U.S. Ambassador to the United Nations, according to CNN. Caroline Kennedy and Susan Rice are also on the news outlet's "short list" of candidates for the post.
"After years of decline in the U.S. image abroad, one of President-elect Barack Obama's many tasks will be reaching out to the global community," notes the article. "Obama's choice for U.S. ambassador to the United Nations will play a key role in rehabilitating the country's image and relationships around the world."
Hamilton, CNN writes, "was a member of the House of Representatives for decades, and chaired the House Committee on Foreign Affairs during his tenure in Congress. Hamilton also was vice-chair of the 9/11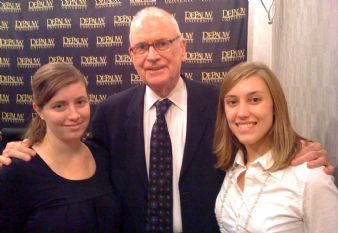 Commission and co-chair of the Iraq Study Group." (at right: Hamilton with DePauw student journalists)
Read more at CNN.com.
Lee Hamilton is director of the Woodrow Wilson International Center for Scholars in Washington, D.C. He returned to the DePauw campus in September to discuss "America's Role in the World" with FOX News Chief White House Correspondent Bret Baier '92. A summary of that event -- including video and audio clips -- can be accessed here.
Also available is this recent article.
Back