Tigers Fight off Ravens for Home-Opening Win
November 25, 2008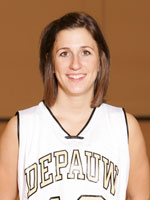 November 25, 2008, Greencastle, Ind. - The 10th-ranked Tigers closed the first half with a 19-7 run and opened the second half with a 9-2 stretch on the way to an 80-72 win over visiting Raven in DePauw's home opener. The Tigers improved to 2-1 with the win, while the Ravens dropped to 1-2.
Anderson built as much as an eight-point lead on a couple of occasions and led 26-20 with just under six minutes to play in the half after Mel Hawthorne buried a three as part of an 18-point first half.
Kathryn Denbow started the run with a layup and then knocked down a three before Andrea Travelstead hit two free throws and Cassie Pruzin (pictured left) capped off the 10-0 run with a three to give DePauw a 30-26 lead with 3:18 left in the half. The Tigers went to the break with a 39-33 lead after Lauren Goff's three in the closing minute.
Emily Marshall and Katie Mathews (picured right) started the second half with buckets and the Tigers' lead reached 13 after Cassie Pruzin's bucket pushed the margin to 48-35 with 16:36 left.
The Ravens closed the gap to five midway through the half after Lauren Leisure's three capped a 5-0 run, but DePauw scored the next seven to push the lead back to 12. The Tigers led by as many as 14 in the final four minutes and the Ravens got as close as six with less than a minute remaining.
Four Tigers scored in double figures led by Pruzin's 13, Katie Adrich's 12 and 11 apiece from Mathews and Travelstead. Marshall grabbed nine rebounds as the Tigers held a 39-28 edge on the boards. Mathews dished out six assists and Pruzin added five in the win.
Hawthorne finished with 27 for the Ravens followed by Leisure with 16 and Ellen Thompson with 10. Hawthorne also hauled down nine rebounds and Mandy Seward dished out six assists.
The Tigers shot 49.2 percent from the floor including 56 percent in the second half, while the Ravens connected on 46.4 percent and hit 8-of-12 three-pointers.
With the win the Tigers extended their regular season home win streak to 44 straight and their overall home string to 27.
DePauw returns to action on Friday, November 28, when it faces Lehman in the San Antonio Shootout at Trinity University.
Back