Fitch Earns Second Team Academic All-America Honors
November 26, 2008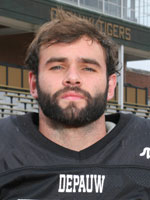 November 26, 2008, Greencastle, Ind. - DePauw junior defensive end Alex Fitch has been selected to the ESPN The Magazine Academic All-America® College Division Football Second Team as selected by the College Sports Information Directors of America (CoSIDA).
An economics and mathematics double major, Fitch has a 3.98 cumulative grade point average through four semesters and is a senior, academically.
The Long Grove, Ill., resident is a member of DePauw's Management Fellows program and will intern in the finance department at Eli Lilly and Company during the spring semester
Fitch has been named to DePauw's Dean's List all four semesters in addition to his two Southern Collegiate Athletic Conference Academic Honor Roll selections.
In addition to his normal course load, Fitch also takes one piano class each semester and plans to perform a junior recital next year. He also is a recipient of the Timothy Pearson Scholarship, the Stuart and Jane Watson Delta Tau Delta Scholarship and the Neal Scholarship.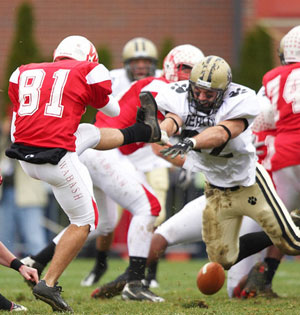 On the field, Fitch started all 10 games for the 8-2 Tigers and blocked a team-high six kicks. Fitch finished the season with 23 total tackles including nine solos. He totaled three tackles for loss including 1.5 sacks and earned all-SCAC second team honors this season.
A two-time D3football.com Team of the Week selection this season and three times in his career, Fitch was also the SCAC Special Teams Player of the Week once this year.

Since the program's inception in 1952, CoSIDA has bestowed Academic All-America honors on more than 14,000 student-athletes in Divisions I, II, III and NAIA, covering all NCAA championship sports.
Fitch is DePauw's 40th Academic All-America selection and the 19th football player to earn the honor. The last Tiger football Academic All-America was Scott Farnham '97 in 1996.
To be eligible, a student-athlete must be a varsity starter or key reserve, maintain a cumulative grade point average of 3.30 on a scale of 4.00, have reached sophomore athletic and academic standings at his/her current institution and be nominated by his/her sports information director.
For more information about the Academic All-America Teams program, please visit the CoSIDA site.
ACTION PHOTO: Alex Turco
DePauw's Academic All-America® Honorees
Year
Sport
Student-Athlete
Team
1958
Football
Ike Tallman
3
1970
Football
Jim Caesar
1
1970
Men's Basketball
Richard Tharp
‐‐‐
1971
Football
Jim Caesar
1
1972
Men's Basketball
Charles Bowers
2
1972
Men's Basketball
Gary Pittenger
2
1973
Football
Neil Oslos
1
1973
Men's Basketball
Gordon Pittenger
1
1976
Men's Basketball
Rick Huser
3
1980
Football
Jay True
1
1980
Football
Joe Johnson
2
1984
Football
Rich Bonnacorsi
2
1984
Football
Tim Weaver
2
1985
Football
Tony DeNicola
1
1985
Women's At‐Large (Swimming)
Jean Chamness
3
1986
Baseball
David Chalmers
HM
1986
Football
Timothy Weaver
2
1986
Women's At‐Large (Swimming)
Nancy Gritter
1
1987
Football
Michael Sherman
1
1987
Men's Basketball
David Galle
1
1987
Women's At‐Large (Swimming)
Nancy Gritter
1
1988
Women's At‐Large (Swimming)
Nancy Gritter
1
1990
Baseball
Pete Land
1
1990
Football
Matt Nelson
2
1990
Football
Tom Beaulieu
1
1990
Women's At‐Large (Tennis)
Jennifer Burns
3
1991
Football
Matt Nelson
1
1991
Football
Tom Beaulieu
1
1992
Football
Mike Thomas
2
1994
Football
Mike Callahan
1
1996
Football
Scott Farnham
2
1998
Baseball
Tom Fagan
3

1998
Women's At‐Large (Swimming)
Charee Campbell
2
2001
Men's At‐Large
Dan Garrison
3
2002
Men's Basketball
Joe Nixon
2
2003
Men's At‐Large (Swimming)
Nate Moch
1
2003
Women's At‐Large (Swimming)
Katie Reis
2
2006
Men's Soccer
Nick Noel
1
2008
Women's At‐Large (Tennis)
Erin Andrade
3
2008
Football
Alex Fitch
2
Back