DePauw University Band Releases Seventh CD, Starsplitter
November 27, 2008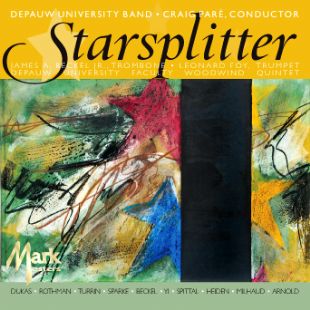 November 27, 2008, Greencastle, Ind. - The DePauw University Band is pleased to announce that its seventh compact disc, Starsplitter, is now available. Recorded over the course of four days in April 2008 in Kresge Auditorium, the disc features the members of the University Band, conducted by Craig Paré, along with seven School of Music faculty members.
Soloists who perform with the ensemble on the CD are James A. Beckel Jr. on trombone and Leonard Foy, who plays trumpet on "Fandango" by Joseph Turrin for solo trumpet, trombone, and band. The DePauw University Woodwind Quintet is featured on two tracks in pieces for woodwind quintet and woodwind trio. Members of the Woodwind Quintet include Anne Reynolds, flute; Leonid Sirotkin, oboe; Randy Salman, clarinet; Kara Stolle, bassoon; and Robert Danforth, horn. (below right: Professors Foy, Paré, and Beckel)
The disc's repertoire includes:
Fanfare précéder La Péri - Paul Dukas
Starsplitter - Philip Rothman
Fandango - Joseph Turrin
Overture for Woodwinds - Philip Sparke
Music for Winds, Piano, and Percussion - James A. Beckel, Jr.
Tu - Chen Yi
Pacem - Robert Spittal
Sinfonia for woodwind quintet - Bernhard Heiden
Suite (d'après CORRETTE) pour Hautbois, Clarinette et Basson - Darius Milhaud
Four Scottish Dances, Op. 59 - Malcolm Arnold/Paynter
Starsplitter has been released on the Mark Masters label and will receive worldwide distribution, marketed alongside esteemed ensembles such as the United States Marine Band, the United States Air Force Band, and the Tokyo Kosei Wind Orchestra. Mark Masters also issued two previous CDs by the DePauw University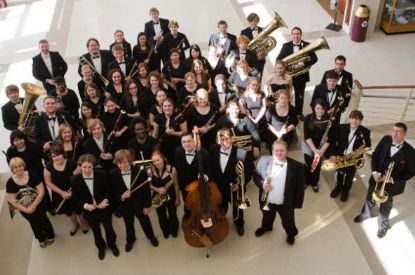 Band, Toccata Festiva and Brooklyn Bridge.
"The products of the University Band's CD recording project are a result of a total collaborative effort at DePauw," according to Dr. Paré. "Each CD, from Starsplitter to our very first recording twelve years ago, Shadows of Eternity, is designed to highlight the many talents of the University and School of Music. Our talented undergraduate students are the performers who work diligently throughout the year to prepare for our recording sessions, and our faculty soloists demonstrate the wealth of artistry and musicianship that enrich in our School of Music."
The professor adds, "Other School of Music students learned about recording technology and procedures as they assisted in the recording booth during the weekend of recording sessions. The liner and cover design are created by Dian Phillips, director of publications for DePauw, and the artwork on the cover (Mov'en #2 - I Can Only Go as Far as You'n I can Reach) is an original work by Willis 'Bing' Davis, a distinguished artist and 1959 graduate of DePauw. Mr. Davis has been a wonderful, generous supporter of our recordings -- this is, in fact, the second University Band CD that has featured his artwork."
"I am very proud of our students, who were challenged at the highest levels of their personal technique and musicianship," declares Paré. "This repertoire represents a professional-level of accomplishment. These works were chosen to both challenge our School of Music musicians to reach beyond their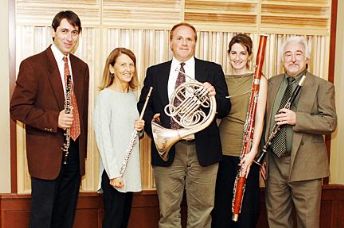 immediate abilities, and to highlight their achievements as students at DePauw. Their performance is a testament to their hard work and to the quality teaching that takes place in the School of Music each day. In addition, we are proud to have had the privilege of making music with Lennie Foy and Jim Beckel on a piece that wonderfully demonstrates their virtuosity and artistry."
Starsplitter is available through a variety of online retailers, including Amazon.com, MarkCustom.com and mp3.rhapsody.com.
For more information on the new release and the other compact discs issued by the DePauw University Band, click here or contact Craig Paré at cpare@depauw.edu.
Back