USA Today Thanksgiving Column Cites Barbara Kingsolver '77
November 27, 2008
November 27, 2008, Greencastle, Ind. - "In her delightful best-selling book, Animal, Vegetable, Miracle, Barbara Kingsolver described her family's attempts to live a year off locally raised foods, much of it from the family's own garden," writes Chuck Raasch in USA Today. Kingsolver, a 1977 graduate of DePauw University, "did it, in part, after realizing that Americans had lost something fundamental in their ignorance about such basics of life."
The columnist writes, "Americans have become, Kingsolver concluded, so clueless to the links in the food chain that they actually think tomatoes are supposed to taste like the cardboard boxes in which they arrive at the supermarket ... So what?," he asks.
"Well, it might be said that our economic problems stem, at least in part, from the same kind of distance, the same sort of institutionalized ignorance," opines Raasch. "For the economics of scale, we've
forsaken or neglected the basics of life around us. We put money in global banks that have no incentive to invest locally. We buy oil from unfriendly fiefdoms while forsaking generations of local wind power, solar and biomass technology development that could enhance the community. We invest in mutual funds that flow in rivers of commerce that are a mystery to all but the experts. As a result, we don't connect our savings with the loan for cousin Eddy's plumbing business or neighbor Mary's dental school loan."
The column -- headlined "On Thanksgiving, reacquainting with life's basics" -- concludes, "Ever pulled a fresh carrot from the garden, washed it, and eaten it on the spot? It's like no other carrot you'll ever eat."
You'll find the complete text at the newspaper's Web site.
Animal, Vegetable, Miracle: A Year of Food Life was a nonfiction finalist in the 11th Annual Library of Virginia Literary Awards and was listed among the ten best nonfiction books of 2007 by TIME magazine. It also received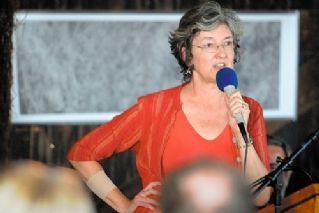 an award from the James Beard Foundation as well as a gold Nautilus Book Award and the Southern Independent Booksellers Alliance's Book Award for Non-Fiction.
Barbara Kingsolver's other works include The Poisonwood Bible, The Bean Trees, Animal Dreams and Small Wonder. She received the National Humanities Medal in 2000.
In 1994, Kingsolver delivered the commencement address at DePauw, and was also awarded an honorary degree during the ceremony. A summary of her speech can be found in this previous story.
Back