DePauw Featured in Wall Street Journal Look at "Revival" of Improvisation in Classical Music
November 28, 2008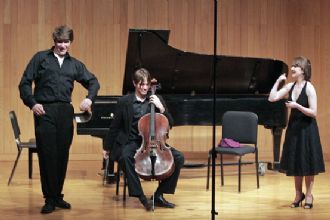 November 28, 2008, Greencastle, Ind. - "Few teachers take improvisation further than Eric Edberg, a professor of music at DePauw University, in Greencastle, Ind.," notes the Wall Street Journal. A front page story in today's "Weekend Journal" section of the newspaper examines the increasing use of improvisation in classical music. Alexandra Alter came to the DePauw campus as part of her reporting for the piece, which includes several photos of DePauw student musicians and a 3+ minute video which was shot on the Greencastle campus. (photo at left by AJ Mast /Wall Street Journal; DePauw students, l-r, John Kraft, Bradley King and Carolyn-Anne Templeton, performing in a music improvisation class)
"Prof. Edberg, a cellist, began improvising 15 years ago," Alter writes. "He started by playing spontaneous, dissonant cello harmonies, then taught himself to improvise simple melodies. Now he teaches his
cello students to improvise and coaches chamber music groups that play nothing but improvisations. Prof. Edberg's unorthodox coaching sessions begin with freestyle humming, sighing, babbling and finger-wiggling. Sometimes he turns off the lights and instructs students to play in the dark to hone their instincts. His students say it helps them develop their own musical voice."
"We're kind of like composers when we improvise," Rebecca Janvrin tells the Journal, which identifies her as "a junior majoring in vocal performance and history, who improvises with a chamber music group." Janvrin adds, "We have the whole gamut of techniques and styles from all of music history to draw from."
The article continues, "On a recent rainy afternoon, members of a string quartet rehearsed a loosely structured improvisation. They began plucking their strings in ascending notes that grew louder and faster. Then the cellist and viola player held down a rhythm, plucking and tapping their instruments, while the violinists took turns improvising solos. Jenna Bauer, a 19-year-old violin major, played smooth, drawn-out notes that sounded like Irish folk tunes. The other violinist, Jeremy Eberhard, a junior, played furious, dissonant chords that evoked the 20th century Russian composer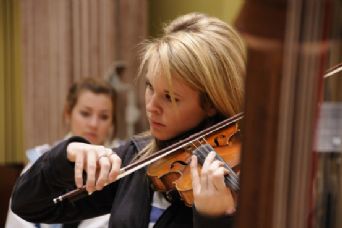 Shostakovich. The players locked eyes, looking for cues about when to switch tempos and when to end. Sometimes, they ended with a decisive swipe of their bows. Other times, they ground unexpectedly to a halt, seemingly out of ideas. Prof. Edberg told them to make more eye contact and have more confidence. 'Repeat after me,' he said. 'There are no wrong notes. I embrace the surprises.'" Professor Edberg adds, "They say that in jazz all the time. If you play a wrong note, play it again, then it's not a wrong note anymore."
Alter notes, "During a concert last week at DePauw, Prof. Edberg's chamber music students gave an hour-long performance without music stands or notes. At one point, the string quartet sat in a tight circle on stage, the lights went down and they played in complete darkness for two minutes, listening to each other's breathing to time their bowing and to match volume and rhythm. They ended with a quick, two-chord flourish, drawing applause and astonished laughter."
DePauw is one of several examples cited in the piece,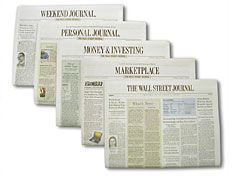 which declares, "The art of improvisation, long dormant in classical music, is undergoing a revival in concert halls, conservatories and recording studios."
Access the complete text -- "Making Up the Classics" -- at the Journal's Web site.
Professor Edberg's efforts to infuse new elements into the teaching and performance of classical music were the subject of a September 2006 article at this Web site, which included video footage.
The DePauw University School of Music is one of the oldest private institutions for post-secondary music instruction in the United States. Learn more by clicking here.
Source: Wall Street Journal
Back