Unique Visitors Here Topped 673K in Record-Setting November
December 1, 2008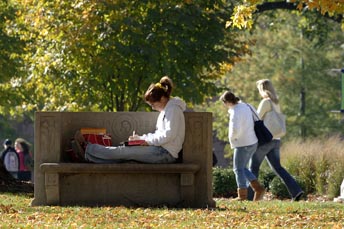 December 1, 2008, Greencastle, Ind. - The total number of unique visitors to this Web site in November -- 673,641 -- marks the third consecutive record-setting month and eclipses the previous all-time high, set in October 2008, by more than 200-thousand. The key statistic, which counts each individual user once per month, doubled from the November 2007 total of 336,808.
Nearly 24 million "hits" were logged at DePauw.edu in November 2008, with 1.175 million overall visits and nearly 6.4 million page views. All three measures marked their second-higest monthly totals ever.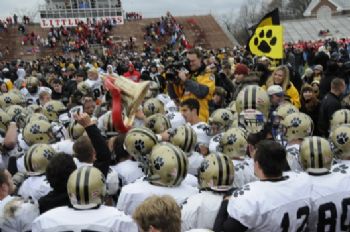 November 2007 remains the top month for hits (24,183,802) and page views (6,397,205), while March 2007 still holds the top mark for visits (1,293,553).
As is the case each month, the top destination for visitors to this Web site in November was news. A total of 173 new stories appeared in November 2008 (103 in the news section, 70 in athletics). The most widely-viewed new article was the November 15 summary of the 115th Monon Bell Classic; in fact, that Saturday was the busiest day of the month at DePauw.edu. Also attracting wide attention were: the use of a student's song on MTV's The Hills; a joint, pre-game letter issued by the presidents of DePauw University and Wabash College to Monon Bell fans; President Brian W. Casey's November 7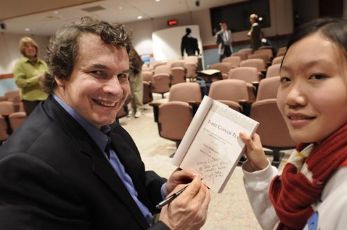 signing of a public statement supporting the Amethyst Initiative; the 2008 National Survey of Student Engagement, which gave DePauw high marks for the academic challenge and enriching educational experiences it offers undergraduates; the November 13 Ubben Lecture by Greg Mortenson (pictured at left), author of the bestseller, Three Cups of Tea; the naming of David A. Martin '70 to President-elect Barack Obama's transition team; a video by two sophomores being selected to air during halftime of the HDNet national telecast of the Monon Bell game; the passing of Professor Emeritus Ed Ypma; a Boston Globe column written by Professor Emeritus John Dittmer; and the naming of the recipients of the 2008-09 Exemplary Teaching Award.
Visitors also sampled the more than 11,100 stories archived on the site, which date back to 1835. A summary of the November 2007 Ubben Lecture by PostSecret founder Frank Warren, for example, was the month's third most-popular story overall, with 2,526 page views.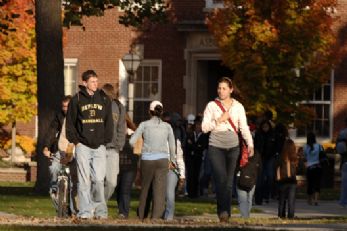 Other popular destinations included the athletics page, class schedule search, the University libraries, the football team's home page, the campus calendar, and the admission page. Among the most popular downloads were the music video and MP3 of The Ballad of the Monon Bell (2,975 downloads combined).
The average visitor spent 19 minutes and 27 seconds, per visit, at this Web site. At least 11.31% of the traffic came from foreign countries, the top being, in order: Canada, Australia, United Kingdom, Italy, Brazil, China, Netherlands, Mexico, Germany, Sweden, Uruguay, Norway, Spain, Portugal, Singapore, Argentina and Switzerland.
| | | | | |
| --- | --- | --- | --- | --- |
| � | Hits | Unique Visitors | Visits | Page Views |
| November 2008 | 23,977,400 | 673,641 | 1,175,508 | 6,397,205 |
| Nov. 2007 | 24,183,802 | 336,808 | 1,085,750 | 6,786,020 |
| Nov. 2006 | 19,527,297 | 379,108 | 1,267,839 | 4,475,041 |
| Nov. 2005 | 18,506,561 | 201,631 | 858,617 | 4,214,601 |
| Nov. 2004 | 12,552,770 | 150,514 | 597,389 | 4,100,579 |
| Nov. 2003 | 10,165,885 | 101,147 | 438,144 | 2,418,893 |
| Nov. 2002 | 7,804,993 | 69,924 | 362,884 | 1,374,018 |
| Nov. 2001 | 6,336,224 | 51,499 | 273,404 | 1,254,565 |
| Nov. 2000 | 3,161,231 | 28,662 | 159,845 | 847,870 |
("hits" is a count of all the successful hits including HTML pages, pictures, forms, scripts and files downloaded; unique visitors counts each user once per month; visits counts every time a user visits the site)
Back