Big First Half Lead Propels Tigers to Win over Wabash
December 2, 2008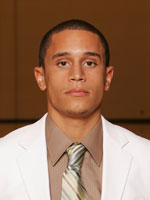 December 2, 2008, Greencastle, Ind. - Host DePauw scored 10 straight points over a three-minute stretch of the first half and never trailed the remainder of the contest on the way to a 67-57 win over Wabash. The Tigers improved to 3-2 with the win, while the Little Giants dropped to 2-2.
Wabash led briefly in the opening minutes before Mike Moore (pictured) hit back-to-back three-pointers which gave the Tigers a 12-7 advantage. The Tigers still led 14-12 midway through the opening half before scoring the next 10 which started a 19-4 run and gave DePauw a 33-17 halftime advantage.
Over the opening 20 minutes the Tigers shot just 40 percent from the floor, but held the Little Giants to just 3-of-21 shooting from the floor and 0-of-8 from three-point range.
Andrew Gilman knocked down a three and Aaron Brock scored a bucket in the opening minute of the second half to draw Wabash within 12. DePauw pushed the margin back to 17 at 42-25 after Drew Wills' layup with 13:21 left.
The Little Giants trimmed the Tigers' lead to 49-44 after Brian Maloney's two free throws with 5:56 remaining capped a 9-0 run.
Moore's three-point play followed by Steve Lemasters' trey from the right corner with the shot clock winding down made it 55-44 with just 4:36 left. Wabash got no closer than nine the rest of the way.
Moore led all scorers with 21, while Lemasters added 11 and Joe Bergfeld 10. Ryan Russell grabbed six rebounds to lead DePauw which held a 37-31 edge on the boards.
Brock led Wabash with 20 points along with 13 rebounds, while Wes Smith had 12 points and Maloney followed with 10.
DePauw shot 40.4 percent from the floor and hit 7-of-20 three-pointers, while the Little Giants finished at 32.7 percent overall after shooting 45.2 percent in the second half. Wabash connected on just 2-of-18 shot from beyond the arc.
The Tigers open Southern Collegiate Athletic Conference play on Friday at Oglethorpe at 6 p.m. with with the WGRE broadcast available shortly before tipoff.
Back