Four are Finalists for Orr Entrepreneurial Fellowships
December 4, 2008
December 4, 2008, Greencastle, Ind. — Four DePauw University seniors --Natalie Ciambrone, Maribeth Kupstas, Jillian Strandness and Katie Veatch -- are finalists for 2009 Governor Robert D. Orr Entrepreneurial Fellowships. They are among 20 candidates who will undergo final interviews tomorrow with senior executives from 10 of Indiana's highest growth companies. DePauw is the only Indiana college or university with four finalists; its closest competitors have two each.
The twenty finalists "emerged from an exhaustive, statewide search," notes an announcement. "Current Orr Fellows scour thousands of resumes provided by Indiana's colleges and universities, looking for a
combination of high grades and leadership. They winnow that list to about 500 of the best candidates and present them to the Fellowship's who choose approximately 150 to interview personally. The 20 finalists were selected after interviews and a reception in downtown Indianapolis." Ten will be chosen to receive 2009 Orr Fellowships.
Named after Indiana's 45th governor, the Orr Fellowships offer two-year placements in an entry-level job and leadership training including monthly meetings with some of Indiana's top entrepreneurs and business leaders. In addition, Orr Fellows attend entrepreneurial events and symposiums throughout the state and engage themselves in social and community service-related activities. Throughout these activities and experiences, the Governor Bob Orr Fellowship hopes to retain Indiana's top graduate talent, and aid in the development of Indiana's economy.
Ali Sales (pictured at left), co-founder of Compendium Blogware and a 2003 DePauw graduate, will be one of the executives conducting tomorrow's interviews. She received an Orr Fellowship her senior year at DePauw and, after graduating, began working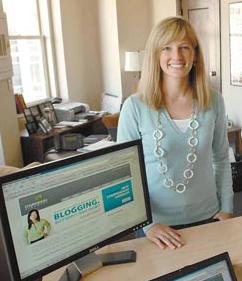 with Chris Baggott, then an executive at ExactTarget. In 2007, Baggott and Sales reunited and founded Compendium together.
"I lived the Fellowship, and I'm excited about exposing another batch of our state's most talented students to the wonderful experience that I had," says Sales. "This isn't an internship. The executives at host companies are serious about developing tomorrow's entrepreneurs, and the Fellowship really delivers on its promise to expose Fellows to what it's like to run an up and coming business."
Since its inception in 2001, the Orr Fellowship has fulfilled its mission to keep Indiana's best and brightest graduates in the state by placing 65 fellows at sponsoring Indiana companies.
Read more by clicking here.
Back