DePauw Hosts 22nd Invitational this Weekend; Psych and Heat Sheets Posted
December 4, 2008
OFFICIAL DEPAUW INVITATIONAL SITE | PSYCH SHEET | FRIDAY PRELIM HEAT SHEET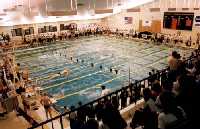 December 4, 2008, Greencastle, Ind. — The 22nd annual DePauw Swimming Invitational gets underway Friday morning at 9:30 a.m. and continues through early Saturday evening.
Prelims on Friday and Saturday begin at 9:30 a.m. with finals slated for 6:15 p.m. on Friday and 4:30 p.m. Saturday.
Competing institutions in addition to DePauw include: Alma, Centre, Illinois Wesleyan, Millikin, Monmouth, Rhodes, Rose-Hulman, Transylvania and Wittenberg.
DePauw's men won their fourth straight title last year, while the Tiger women won their second consecutive.
The complete schedule of events is listed at the Invitational site. Heat sheets and results will be posted when available.
Back