Friday's Prelims are Complete at 22nd Annual DePauw Invitational
December 5, 2008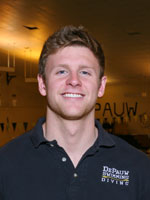 December 5, 2008, Greencastle, Ind. — The 22nd annual DePauw Swimming Invitational got underway this morning and DePauw has taken the early lead. The Tigers have 50 points followed by Wittenberg with 46 and Rhodes with 38.
Among the DePauw highlights was the 200-yard freestyle relay of John Cook, John Montgomery, Kkyle Kerrigan and Steve Klabak taking first in a meet and pool record time of 1:22.33 which also notched an NCAA "B" cut. Cook (pictured) did the same in the 100 free in 44.77 seconds.
Complete results and other information on the DePauw Invitational is available at the meet's official site.
Back