Tigers Top Sewanee and Even SCAC Mark
December 7, 2008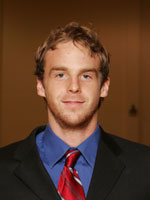 December 7, 2008, Sewanee, Tenn. — For the second straight game, junior Tom Callen (pictured) notched a career scoring high as his 23 points helped DePauw to a 73-63 Southern Collegiate Athletic Conference win at Sewanee. The Tigers improved to 4-3 overall with the win, while Sewanee dropped to 2-6 overall and 0-2 in the conference.
In a tight game throughout, DePauw and Sewanee were tied at 52-52 before the visiting Tigers scored seven straight capped by Mike Moore's drive with 4:34 left which made it 59-52.
Later, Sewanee's Bradley Pierson closed the gap to 61-56 on a drive with 3:12 left, but Steve Lemasters converted a three-point play off of Moore's inbounds pass to make it 64-56 with 1:40 remaining. The Tigers were able to convert 9-of-12 free throws in the final 1:21 to seal the victory.
Callen finished with a double-double of 23 points and 10 rebounds, while Moore added 22 points and Lemasters 16. Moore dished out a game-high six assists in the win.
Ben Pursell led Sewanee with 18 points and Pierson followed with 17. Kenton Coleman grabbed eight rebounds as Sewanee held a 38-34 edge on the boards.
The Tigers shot 37.5 percent from the floor after hitting just 31 percent in the opening half, while Sewanee connected on 35.3 percent including 29.6 percent in the opening 20 minutes. DePauw committed just 10 turnovers in the victory.
DePauw hosts Purdue-North Central on Wednesday, December 10, at 7:30 p.m.
Back