Nineteenth Ranked DePauw Wins at Sewanee
December 7, 2008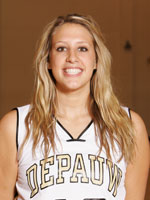 December 7, 2008, Sewanee, Tenn. — The 19th-ranked Tigers improved to 4-3 overall and 1-1 in the Southern Collegiate Athletic Conference following a 59-46 win at Sewanee. The hosts slipped to 0-6 overall and 0-2 in the conference.
DePauw led 15-12 midway through the first half before going on an 11-2 run and limiting Sewanee to just one field goal in the last nine minutes on the way to a 28-16 halftime lead.
The Tigers extended the lead to 13 early in the second half but Sewanee battled back with 11 straight points started by consecutive three-pointers by Lauren Gulley. That run cut the lead to 37-35 with just under 10 minutes left.
An 8-0 DePauw stretch pushed the lead back to double-digits at 45-35 with just over six minutes remaining. Sewanee later closed the gap to eight after Carla Smiley hit a three, but DePauw's Danielle Boraz (pictured) converted a three-point play and a drive to push the margin back to 13.
Boraz established DePauw career highs with a double-double of 15 points and 10 rebounds, while Katie Aldrich followed with 12 points.
Anne Wills scored 11 for Sewanee and Gulley followed with 10. Linsie Wiesman grabbed a team-high eight rebounds.
The Tigers outrebounded Sewanee, 45-28, and shot 40 percent from the field. Sewanee connected on 32.8 percent from the floor, but hit 8-of-18 from three-point range.
DePauw returns to action on Saturday, December 13, at Augustana.
Back