2008 Monon Bell Classic DVDs Begin Shipping Today
December 9, 2008
Also: Online DVD Order Form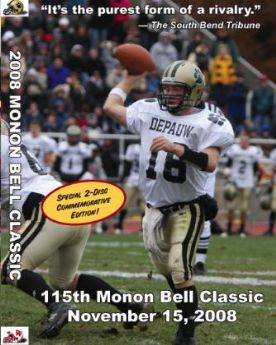 December 9, 2008, Greencastle, Ind. — The commemorative, limited edition 2-DVD set of this year's Monon Bell Classic has arrived from the replicator and begins shipping today. "Each school has just 250 of the sets to distribute, and many are spoken for via pre-orders," says Ken Owen '82, executive director of media relations at DePauw, who mastered the discs.
DePauw's stock of the 2007 DVD is now virtually sold out and many previous years are in short supply. The two schools began producing a digital disc with the 2001 game.

[Download Video: "2008 Monon Memory" - 4105kb]
The 2008 set features the HDNet telecast presented in widescreen enhanced for 16x9 televisions; photo galleries of this year's battle for the Bell and a collection of historic images dating back to the rivalry's early days; halftime features for both schools; the music video for the popular Ballad of the Monon Bell, and a bevy of surprises.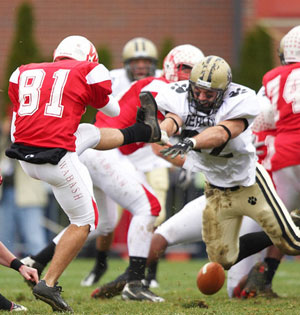 The second disc contains "Monon Memories" of every game from 1890 through the 2008 contest.

[Download Video: "Ballad of the Monon Bell - 2007 Version" - 10,419kb]

[Download Audio: "Ballad of the Monon Bell - Stereo" - 2514kb]
Owen and Jim Amidon, director of public affairs and marketing at Wabash College, collaborated on the project. Owen, who created the "Monon Memories," took responsibility for editing and building the discs and getting them to the replicator. Amidon designed the art for the packaging (seen at top) and the discs and also created the menus on the DVDs themselves, which allow users to jump to particular chapters or choose from among the bonus clips included in the package. DePauw junior Alex Turco assembled the game day photo gallery and shot many of the images.
"It's a real pleasure working with Ken on this every year, and it exemplifies the respect Wabash and DePauw
have for one another," says Amidon. "The rivalry we have is special, and the DVD project provides a terrific keepsake for fans, players and parents."
The 2008 disc is available for $19.95 via this online order form (2001-07 DVDs may also be ordered; availability is limited). A $3 shipping and handling charge will be added to each order.
Access DePauw's Monon Bell Web page here. A complete roster of "Monon Memories" -- video highlights of past classics -- can be found here.
Relive the 115th Monon Bell Classic -- which was played November 15 in Crawfordsville -- in this article, which includes video highlights.
Back