Scott Rasmussen '86 Was 2008's "Most Accurate Pollster," States Columnist
December 10, 2008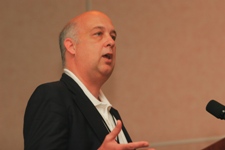 December 10, 2008, Greencastle, Ind. — "Scott Rasmussen, the most accurate pollster of the 2008 season, has said the race was decided in the two weeks in September when the financial markets melted down," notes the Weekly Standard in an analysis of the election and the challenges awaiting President-elect Barack Obama. Rasmussen, a 1986 graduate of DePauw University, is president of Rasmussen Reports.
Noemie Emery writes, "The crash, combined with the fight over the bailout, eroded what was left of voters' crumbling faith in Republican governance. McCain lost 9 points in those days, going from a 3-point lead in some polls to the 6- to 7-point deficit that he would lose by. The election was lost in effect by September 29, and nothing that was said or done after that changed its course."
Emery sees "signs of a swing back to "normal" (or to 'normal while in a
recession') after a brief intense move around the election caused by the first wave of the crash and the bailout that swung the public mood to the left. Two public swings in the month of September help to explain just what happened -- and why the mandate for Obama may not be as big as it seemed."
Access the column at CBS News.com.
Learn more about Scott Rasmussen, who co-founded ESPN with his father, Bill Rasmussen '54, in this previous story.
Back