Tigers Cruise to Win over Panthers
December 10, 2008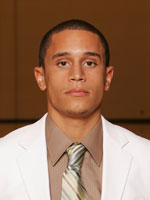 December 10, 2008, Greencastle, Ind. — DePauw jumped out to a 16-2 lead and never trailed in taking a 103-55 win over visiting Purdue North Central. The Tigers improved to 5-3, while the Panthers dropped to 2-9.
Purdue North Central closed the margin to single digits at 24-15 after scoring seven straight midway through the first half, but DePauw scored the next 10 to start a 28-4 run on the way to a 52-21 halftime advantage.
Thirteen different Tigers scored led by Mike Moore's 23 points in 21 minutes. Tom Callen added 16 followed by Drew Wills with a career-high 13. Callen and Moore (pictured) each grabbed a team-high six rebounds as the Tigers held a 41-29 edge on the boards. Tony James and David Gray each dished out four assists.
Hugh Howard paced the Panthers with 10 points as 11 different Purdue North Central players reached the scorebook. Ryan Chambers hauled down six rebounds.
The Tigers shot 54.4 percent from the floor including 63.6 percent in the first half and knocked down 12-of-24 three-pointers. The Panthers hit just 37.3 percent from the field including 3-of-15 from beyond the arc.
The win was DePauw's 17th straight at home over a non-conference opponent and marked the first time the Tigers have topped the 100-point plateau since a 104-78 win over the University of Dallas on December 29, 2006.
DePauw returns to action on Saturday, December 20, when it travels to Division I Indiana State for a 2 p.m. contest at the Hulman Center in Terre Haute.
Back