David Forsell '89 and Keep Indianapolis Beautiful Honored at National Conference
December 17, 2008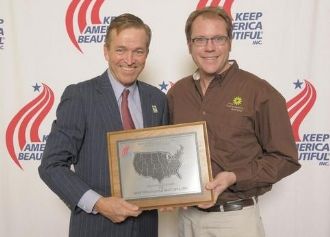 December 17, 2008, Greencastle, Ind. — "We are truly honored that our hard work and dedication has been recognized at the national level," says David Forsell, president of Keep Indianapolis Beautiful and 1989 graduate of DePauw University. Keep Indianapolis Beautiful was honored at last Friday's 55th annual Keep America Beautiful National Conference as an exemplary affiliate organization. "Taking second place in their category, the organization was honored for its outstanding community litter prevention, waste reduction and beautification programs," notes the Indianapolis Star.
"Across America, communities like Indianapolis are improving their neighborhoods and quality-of-life by engaging individuals to take greater responsibility for protecting the environment," states Matthew McKenna, president & CEO of Keep America Beautiful, Inc. "We are privileged to honor and celebrate the dedicated work of our most exceptional affiliates in a national setting." (top photo, l-r, McKenna with Forsell)
"The citizens of Indianapolis have been instrumental in the success of our community improvement programs and, while we are pleased with our results, we are looking forward to achieving more next year," adds Forsell.
The item adds, "Each year, Keep Indianapolis Beautiful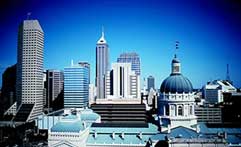 supports an average of 500 community improvement projects with 30,000 volunteers. Since 1995, the organization has helped its neighbors plant more than 12,000 trees, and has been supported by more than one thousand individual donors towards those efforts."
Read more at IndyStar.com.
In October, David Forsell contributed an op-ed to the newspaper. Access it here.
Back