Paul Musson '04 Receives Governor's Award for Tomorrow's Leaders
December 16, 2008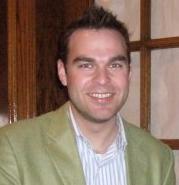 December 15, 2008, Greencastle, Ind. — Paul R. Musson, a 2004 graduate of DePauw University, is among 12 individuals who today will receive the sixth annual Governor's Award for Tomorrow's Leaders. Presented by the Indiana Humanities Council and the Office of the Governor, the program recognizes Hoosiers ages 19-29 who strive for and attain excellence as entrepreneurial leaders, volunteers and scholars. Musson and the other honorees will each receive $1,000 to use as educational scholarships or donations to charities of their choice.
"I applaud the 12 honorees who inspire those around them as they help move Indiana forward," said Indiana Lt. Gov. Becky Skillman. "Without their investment of time and talent in Indiana, we would not enjoy the success we have today."
"In a way, this award is misnamed," adds Keira Amstutz, president of the Indiana Humanities Council and 1991 DePauw graduate. "These aren't Indiana's future leaders. They're out there working hard, making connections, reaching out, mentoring youth-really leading the way right now." (photo from today's ceremony, l-r: Perry Hines, board secretary of the Indiana Humanities Council; Musson; Tim Caister, director of electric regulation at NIPSCO; and Amstutz)
An announcement notes that Musson "was born in San Antonio, Texas, but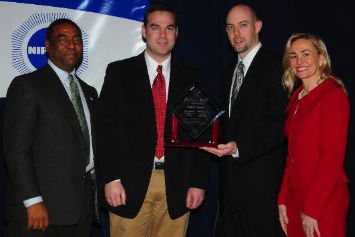 calls Fort Wayne his home. After studying computer science at DePauw University, Musson returned home to start his career as a software engineer at Nothrup Grumman. While working full time, Musson completed his master's degree in computer science at Purdue University. In 2006, Musson was appointed by the City Council to Fort Wayne's Public Transportation Corporation board of directors. In addition to being an advocate of public/mass transit, Musson contributes locally to the American Cancer Society and other social services programs aiding the inner city, started a program to encourage recycling in the workplace and created a holiday family adoption program. He is donating his $1,000 award to the Indiana Development Council."
A distinguished jury of leaders from around Indiana selected the award recipients.
Read more on today's awards ceremony at Inside Indiana Business.com.
Back