Mitch Roob '83 to Become Indiana's Secretary of Commerce; Ron Stiver '96 Takes Clarian Sr. VP Post
December 18, 2008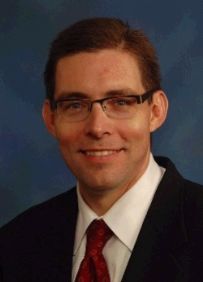 December 18, 2008, Greencastle, Ind. — Indiana Governor Mitch Daniels today announced that Mitch Roob, secretary of the Family and Social Services Administration and 1983 graduate of DePauw University, has resigned and will become Indiana's secretary of commerce and chief executive of the Indiana Economic Development Corporation. Meanwhile, Ron Stiver, a 1996 DePauw graduate, is resigning as commissioner of the Indiana Bureau of Motor Vehicles to become senior vice president of engagement and external affairs at Clarian Health. The changes are effective January 5. (at left: Roob; Stiver pictured below right)
"These are among the brightest stars of the new crew who came to state government service in 2005 and have brought tremendous improvement to Indiana," says Daniels. "We've been lucky to have them," he added. "Ron will be remembered for making the nation's worst BMV into the best ... and Mitch for prescription drug savings for a quarter of a million Hoosiers and for affordable health insurance and Medicaid coverage for more Hoosiers, all while saving taxpayer dollars."
The Indianapolis Star's Mary Beth Schneider notes, "Roob has overseen FSSA since 2005, where he has limited the average Medicaid growth rate to three percent from its previous 10 percent growth rate while increasing the number of recipients by 4.9 percent. He's also led implementation of the governor's Healthy Indiana Plan, which now is providing 40,000 low-income Hoosiers with health insurance, and led the privatization of the state's welfare eligibility system ... Prior to joining the BMV, Stiver served as commissioner of the Department of Workforce Development."
Read more at IndyStar.com and Inside Indiana Business.com.
E. Mitchell Roob Jr. provided the silver anniversary address to fellow members of the Class of 1983 at June's Alumni Reunion Weekend. A summary, including an MP3 file of Roob's speech, can be found in this story.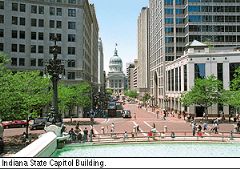 In an April 15 Robert C. McDermond Lecture at his alma mater, Ron Stiver stated,

[Download Video: "Ron Stiver '96 on DePauw" - 522kb] "DePauw is where I started to love to learn ... I had these bright classmates, great professors who were committed, I'd be able to get office hours with them -- all those things, you don't get that at other places. And I really just wanted to start learning and understanding, whether it was game theory, whether it was Keynesian versus Friedman economics ... whether it was, you know, ethical theory and learning about Aristotle and Socrates ... all things."
Access video and audio clips from Stiver's appearance, in this previous article.
Back