Paula Dehn '73 Receives Council on Undergraduate Research Fellows Award
December 18, 2008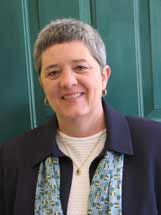 December 18, 2008, Greencastle, Ind. — Paula F. Dehn, vice president for academic affairs at Kentucky Wesleyan College and 1973 graduate of DePauw University, is being recognized for her outstanding dedication and commitment to undergraduate education and research and is one of two recipients of the Council on Undergraduate Research's (CUR) Fellows Award. Every two years, CUR presents the award to two individuals who have made outstanding contributions to the undergraduate research community. CUR Fellows are leading researchers and outstanding educators.
"Awardees are chosen on the basis their long-term involvement of undergraduates in research, active involvement in CUR and support for its mission, the admission of their students to graduate programs, and the incorporation of research and research experiences into undergraduate courses," notes an announcement.
It notes that before taking her current post in July, Dr. Dehn "was department chair and professor of biology at Canisius College when she was selected for the CUR Fellows Award. She earned a B.A, with honors, in zoology in 1973 from DePauw University, as well as a M.A. in the same field, also from DePauw University. In 1980, she obtained a Ph.D. in biology from the University of South Florida. Dr. Dehn previously taught at the University of Texas at San Antonio and Hillsborough Community College."
"I first mentored an undergraduate student during the second year of my doctoral program," says Dehn. "She now has a Ph.D. and directs the environmental
science program at E. Stroudsburg University in Pennsylvania ... Of the 39 students from my research group who have finished their undergraduate degrees, 15 have gone on to medical school, 17 into graduate programs across the U.S in many areas of biology (10 M.S., 7 Ph.D.), 1 into an M.D./Ph.D. program after completing his Fullbright Fellowship, and 6 into relevant work environments."
Her projects have received funding from the National Science Foundation, NASA, National Institute of Health, the Howard Hughes Medical Institute, as well as private donors.
Read more by clicking here.
Back