DePauw Travels to Terre Haute for Showdown with Division I Sycamores
December 19, 2008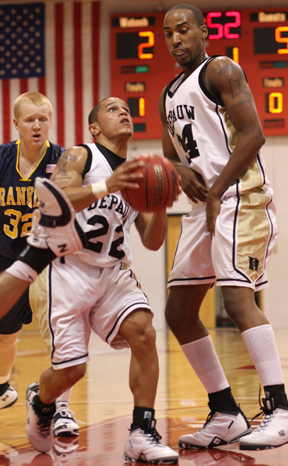 December 19, 2008, Greencastle, Ind. — The 5-3 Tigers return to action tomorrow afternoon when they travel to Terre Haute for a contest at Division I Indiana State.
Tipoff from Hulman Center is set for just after 2 p.m. Tickets are available at the Hulman Center Ticket Office (812) 237-3737.
WGRE will carry the game live, while those in west central Indiana can catch the contest on Terre Haute's WTWO-TV (Channel 2). Complete DePauw game notes are available for download.
DePauw is looking for its third straight win after a 103-55 victory over Purdue North Central on December 10. Indiana State is 1-8 on the campaign after last Saturday's 76-62 loss at Purdue.
The contest is DePauw's first regular season game against an NCAA Division I opponent since a 69-36 loss at Northwestern on December 23, 2005.
The Tigers and Sycamores last met in the regular season during the 1968-69 campaign with DePauw winning in Greencastle by a 95-69 score and Indiana State taking an 80-71 victory in Terre Haute.
In an exhibition game at the beginning of the 2007-08 season, the Sycamores rallied in the closing minutes to claim a 77-68 victory.
Back