John Tedstrom '84 and Global Business Coalition Work to Combat AIDS
December 22, 2008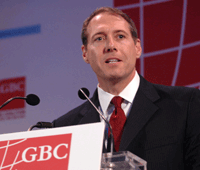 December 22, 2008, Greencastle, Ind. — "We haven't done anything this good for a long time," John E. Tedstrom, executive director of the executive director of the Global Business Coalition on HIV/AIDS, Tuberculosis and Malaria (GBC), tells the UK's Economist. Tedstrom, a 1984 graduate of DePauw University, is referring to an October meeting in London involving approximately 70 representatives from major oil and gas companies, contractors, the Joint United Nations Programme on HIV-AIDS (UNAIDS), the World Bank, the International Labour Organization and non-governmental entities.
The article in which Tedstrom is quoted examines increasing efforts by businesses to battle the disease.
"Companies have moved a long way beyond the anti-discriminatory measures that emerged in the 1990s," notes the piece. "An increasing number -- particularly those operating in high-prevalence areas -- now have policies offering education, testing, counselling and access to treatment. In South Africa, where the United Nations says 18% of 15- to 49-year-olds are living with HIV and AIDS, such policies have become standard."
Read the complete text at the publication's Web site.
GBC is a coalition of more than 220 companies united to keep the fight against HIV/AIDS, tuberculosis, and malaria a global priority. John Tedstrom has led the organization since August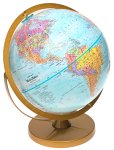 2006. He previously served as director for Russian, Ukrainian, and Eurasian affairs for the U.S. National Security Council, where he provided policy advice and strategic planning for President Bill Clinton. He also managed inter-agency coordination on priority foreign policy issues in the region, with a focus on commercial, economic, and social policy toward the Newly Independent States.
Tedstrom also worked for nearly a decade at the RAND Corporation as economist and senior economist. He held the Jacyk Chair at Columbia University's School of International and Public Affairs in 2000-2001.
Learn more about Tedstrom -- who returned to campus in September to participate in DePauw Discourse 2008 -- in this previous story.
Back