Parents Must Monitor TV, A "Cultural Legitimizer" for Kids: Prof. Jeff McCall '76
December 20, 2008
December 20, 2008, Greencastle, Ind. — "Parents who still need to be convinced that their children's viewing habits require close scrutiny need only look at research that continues to demonstrate television's harmful impact on our nation's youth," writes Jeffrey M. McCall, professor of communication at DePauw, in today's Indianapolis Star. The widely-quoted media observer and 1976 graduate of the University offers a summary of studies that, he believes, parents should pay heed to.
"Overall, research shows that kids who absorb a lot of media -- television, video games, Internet and anything delivered through a screen -- are less likely to do well in school, less well-adjusted socially, and more likely to be overweight than kids who are low users of media," states Dr. McCall. "Television is a cultural legitimizer for kids and teens. Kids infer that the behaviors, language and products seen on television must be OK, or they wouldn't be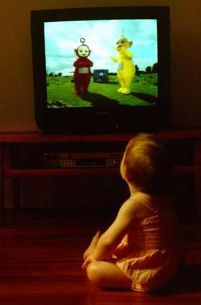 displayed on the nation's largest cultural stage."
According to the professor, "The coarsening of television content continues. A recent study by the Parents Television Council indicates there are nearly twice as many expletives in prime time as there were 10 years ago. The data also indicate the expletives are harsher and show up earlier in the evening."
Although the Federal Communications Commission is examining technologies that would better shield young viewers from age-inappropriate programming, McCall argues the onus is on parents. The V-chip technology and the rating system it uses to block programs seems to confound most parents, thus, "The place to start is to strictly limit viewing and allow only preselected, sensible shows," he declares. "Reducing the availability of TV sets in the home would help as well. The fact that two-thirds of kids ages 8 to 17 have televisions in their bedrooms is problematic."
McCall concludes, "This fight is worth the effort. The physical health, social adjustment and academic success of our children depend on moderating their viewing habits."
The complete column, "What are your kids watching? Here's why you should care," can be found at College News.org.
Jeff McCall is the author of the book Viewer Discretion Advised: Taking Control of Mass Media Influences and has been cited in articles published by more than 80 newspapers and has appeared seven times on FOX News Channel's' O'Reilly Factor. Most recently, McCall was quoted in a Pittsburgh Tribune-Review article on the Fairness Doctrine.

Source: Indianapolis Star
Back